Climate Change - Crisis - Catastrophe
by Hilary Williamson (September 2019)
'Pollution, pollution!
Wear a gas mask and a veil.
Then you can breathe,
Long as you don't inhale!'
(Tom Lehrer's 1967 song Pollution)
---
First, the very reality of Climate Change was disputed. Now, most recognize a Climate Crisis, while many have already experienced a Climate Catastrophe. Has our planet's 6th mass extinction already begun?

While countries around the world deal with raging wildfires, surging floods, and winds that make Dorothy's Wizard of Oz tornado seem tame, politicians play mind games with voters by denying the science (read Liar, Liar ...), or dubbing environmental action to put a price on pollution simply a new form of taxation, a carbon tax.

Our 60s youth marched against the Vietnam war and for ordinary folk in Third World countries most affected by it. Bob Dylan sang back then, 'The times they are a-changin' ...' Today's youth march against the war waged against Mother Earth and for ordinary folk in Third World countries most affected by it. The times are again a-changin' - an environmental war is upon us.

I just listened to an audiobook, We Are the Weather: Saving the Planet Begins at Breakfast, read by its author, Jonathan Safran Foer. He searches his own soul and urges us to do the same, taking issue with those who accept the reality of human-caused climate damage, but do little about it. He makes analogies with the challenges faced in mobilizing the U.S. population to make sacrifices during World War II, for something happening 'over there'.

Foer explores how to move past 'climate apathy' and emphasizes our responsibility to make changes in our daily lives. He argues that we cannot save the planet unless we significantly reduce our consumption of animal products. Foer encourages simply cutting them out for breakfast and lunch - not a big sacrifice at all. 'We must let some eating habits go, or let the planet go', a simple way to start.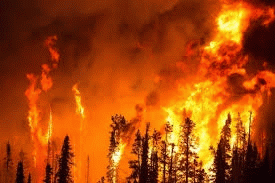 Five years ago, I read The Cusanus Game a brilliant dystopian by German SF grand master Wolfgang Jeschke, in which a nuclear disaster triggers global warming and species extinction. It's 2052 and humanity struggles with coastline flooding, burning forests, expanding deserts, more and more climate refugees moving towards and through Europe. Sound familiar? In Jeschke's fictional account, 'continued existence of life on earth' depends on time travel. Unfortunately we don't have that option.

Climate Change - Crisis - Catastrophe - - - Cataclysm?

Let's turn back from the brink. Young people are on the move. Listen to them; keep up with the science; change daily habits; make sacrifices; and VOTE for leaders who recognize the reality and are ready to take action!!
---
Some Environmental Reading:

The Attacking Ocean: The Past, Present, and Future of Rising Sea Levels by Brian Fagan
Changing Planet, Changing Health by Paul Epstein & Dan Ferber
Clean Energy Nation: Freeing America From the Tyranny of Fossil Fuels by Jerry McNerney & Martin Cheek
Dancing at the Dead Sea: Tracking the World's Environmental Hotspots by Alanna Mitchell
F**k Plastic: 101 Ways to Free Yourself from Plastic and Save the World
Garbology: Our Dirty Love Affair With Trash by Edward Humes
Global Warning: The Last Chance for Change by Paul Brown & Gerd Leipold
Go Green: How to Build an Earth-Friendly Community by Nancy H Taylor
Hope for Animals and Their World: How Endangered Species Are Being Rescued from the Brink by Jane Goodall, Thane Maynard & Gail Hudson
The Imperfect Environmentalist by Sara Gilbert
Last Call At the Oasis: The Global Water Crisis and Where We Go From Here edited by Karl Weber
The Little Green Handbook: Seven Trends Shaping the Future of our Planet by Ron Nielsen
No Turning Back: The Life and Death of Animal Species by Richard Ellis
On a Farther Shore: The Life and Legacy of Rachel Carson by William Souder
On Thin Ice: The Changing World of the Polar Bear by Richard Ellis
Our Symphony with Animals: On Health, Empathy, and Our Shared Destinies by Aysha Akhtar
Practical Green Remodeling: Down-to-Earth Solutions for Everyday Homes by Barry Katz
Reason for Hope: A Spiritual Journey by Jane Goodall
Recycle! by Moira Hankinson & Nicholas Hankinson
A Sea In Flames by Carl Safina
Sicker Fatter Poorer by Leonardo Trasande
Smithsonian Ocean: Our Water, Our World by Deborah Cramer
A Sting in the Tale: My Adventures with Bumblebees by Dave Goulson
Sustaining Life: How Human Health Depends on Biodiversity edited by Eric Chivian & Aaron Bernstein
Toward a Zero Energy Home: A Complete Guide to Energy Self-Sufficiency at Home by David Johnston & Scott Gibson
---
Note: Opinions expressed in reviews and articles on this site are those of the author(s) and not necessarily those of BookLoons.
---