Winter Romance Report - A Wonderland of Romance
By Martina Bexte (December, 2006)
---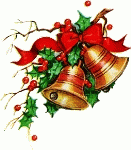 December is a hectic time of the year - especially for St. Nick and his busy elves - but even Santa recognizes the allure of a good book, particularly a warm romance. Whether you need gift ideas for friends or are stocking up on romance selections of your own, there's a wonderland of romantic reading available. In celebration of the season, check out these tantalizing holiday-themed romances and anthologies ...

Yuletide Romance

Debbie Macomber's sentimental Christmas stories have always been reader favorites and Christmas Letters is no exception - Katherine enjoys writing Christmas letters for people too busy to do their own, but her holiday cheer is dashed when she clashes with child rearing expert, Dr. Wynn Jeffries. And fiction and reality mix when movie star Clare McCallum is whisked back to 1941 Pearl Harbor days before the attack in Wendy Markham's poignant If Only in My Dreams. Robin Lee Hatcher's A Carol for Christmas tells a heartwarming story of a young couple whose discovery of the true meaning of the holiday breathes new life into their failing marriage.


Return to the Pennyfoot Hotel in Kate Kingsbury's Slay Bells where hotel proprietor Cecily Sinclair Baxter must find out who murdered Father Christmas. Anne Perry pens another fine historical mystery in A Christmas Secret where English Vicar Dominic Corde and is wife Clarice must discover who killed the elderly reverend Wynter. Christie Ridgway stirs up plenty of Christmas sizzle as well as humour in Must Love Mistletoe, about two old flames who, against their better judgment, turn to each other for holiday cheer.

Is your busy holiday schedule better suited to shorter tales? Then take a tour through these merry anthologies: Fern Michaels, Beverly Barton, Joanne Fluke and Shirley Jump not only offer up a nice batch of stories in Sugar and Spice, they also share some of their favorite recipes. Jennifer Crusie, Lori Foster and Carly Phillips present three fun filled tales in Santa, Baby where Christmas shopping and wishing under the mistletoe lead to holiday fun. Enjoy a quartet of stories focusing on love and family in I'll Be Home for Christmas, featuring Linda Lael Miller, Catherine Mulvany, Julie Leto and Roxanne St. Claire. And Mistletoe Kisses presents the collective talents of Deborah Hale, Elizabeth Rolls and Diana Gaston and their heartwarming trio of historical Yuletide tales set in Britain.

Historical Romance

Leslie LaFoy takes readers to the late 19th century in The Rogue's Bride where an American shipping magnate and a former street urchin work together to investigate the truth about a double murder. Jody Thomas returns to her favorite time period, the old West, in Texas Rain where Ranger Travis McMurray finds himself chasing after a beautiful horse thief on the run from an arranged marriage. Newcomer Elizabeth Hoyt takes the tried and true Beauty and the Beast theme and turns it on its ear in The Raven Prince where destitute widow Anna Wren hires on as secretary to the dark and brooding Edward de Raaf.



Eve Silver confirms that she's a writer to watch in her latest gothic romance, His Dark Kiss; the moment governess Emma Parrish arrives at Manorbrier Castle she knows there's something sinister afoot. Prepare to be swept away by Rona Sharon's My Wicked Pirate, as an heiress becomes a pawn in a dangerous grudge between her fiancé and a legendary pirate. Susan Spencer Paul presents more magical romance in Touch of Desire. This time it's powerful sorcerer Malachi Seymour's turn to fend off inquisitive Lady Sarah Tamony before she learns too much about his family's well-kept secrets. Geri Russell debuts in The Warrior Trainer introducing Scotia, a character based on a real life Scottish warrior queen, questing to preserve the Stone of Destiny.

Julianne MacLean pens another tempting tale in Surrender to a Scoundrel where a renowned rake is given a second chance by a young lady who's never believed in his dark reputation. In Carolyn Davidson's poignant story Haven, Anna Whitfield must trust the local sheriff's integrity when he recognizes her as a murdered senator's wife and the prime suspect in his demise. Or travel back to ancient Rome in Donna Gillespie's Lady of the Light - former gladiatrix Auriane's brutal past catches up to her, forcing her to fight for her freedom as well as the lives of her husband and daughters.

Mainstream & Contemporary



Claire Cross does another nice turn in One More Time where Leslie and Matt work to re-evaluate and repair their damaged marriage. Barbara Taylor Bradford brings her myriad of fans another richly developed story of family intrigue and drama in the world of the wealthy elite in The Ravenscar Dynasty. Penny Nichols inherits much more than a small share of a French villa in C. A. Belmond's often amusing A Rather Lovely Inheritance. Dorothy Garlock breathes life into rural Arkansas in On Tall Pine Lake, a story that blends romance and plenty of dark secrets. Alice Hoffman shows how love affairs can destroy families in Skylight Confessions.

Tracy Brown's White Lines is a character driven story about a junkie and a drug dealer whose lives invariably intertwine, showing how their love motivates them to follow a new path. What happens when an old high school flame comes knocking at Abby Foote's door accusing her of her boyfriend's murder? Find out in Melissa Senate's Love You to Death. Mix a dash of chick lit with elements of the paranormal and a love triangle and you get Sonia Singh's Ghost, Interrupted. Susan Mallery continues her very enjoyable Buchanan family saga in Sizzling - on the run from nosy reporters, Reid Buchanan moves in with his formidable grandmother only to find himself falling in love with Gloria's no-nonsense nurse.

Mystery & Suspense


J.D. Robb is back with another installment in her gritty futuristic series featuring Eve Dallas and billionaire husband Roarke in Born in Death. Both are thrilled when a new murder takes precedence over attending Mavis's birthing classes but the disappearance of another mom Mavis has befriended adds to Eve's caseload. Linda Lael Miller kicks off another enjoyable series in Deadly Gamble, a story where Mojo Sheepshanks' past and present collide. Blair Mallory, Linda Howard's heroine from To Die For, is back for an encore in Drop Dead Gorgeous - an unknown assailant is trying to cancel Blair's wedding plans ... permanently.

Former pop star Heather Wells gets herself embroiled in the murder of a cheerleader in Meg Cabot's amusing Size 14 is Not Fat Either. Julie Garwood's Shadow Dance brings her many fans another memorable romantic suspense that showcases the descendents of her popular Buchanan family and centers on an ancient family feud. Barbara Colley gives her protagonist Charlotte LaRue another mystery to solve in Scrub-A-Dub Dead. This time she's trying to get to the bottom of a mysterious death at the Jazzy Hotel. Susan Crandall's A Kiss in Winter is a poignant, character rich story that finds a photographer and a disillusioned psychiatrist trying to move on with their lives.

Allison Brennan brings readers a brand new back-to-back thrill-ogy starting with Speak No Evil. This first installment follows the volatile clash that ensues between detective Carina Kincaid and sheriff Nick Thomas as they investigate the brutal murder of a teen. Look for See No Evil in February and Fear No Evil in March. On a zanier note, check out Bride and Doom by Deborah Donnelly where wedding planner Carnegie Kincaid gets more than she bargained for as she plans not only her own wedding, but also that of a major league baseball player. When the murder of a sports writer fouls up the proceedings, Carnegie steps up to bat to investigate.

Fantasy, Paranormal & SF Romance



What happens when werewolf Tobias Walker saves flighty princess Fiona from attacking demons? Find out in Christine Warren's amusing She's No Faerie Princess. Stephanie Rowe returns with another hilarious story in Must Love Dragons. Theresa Nichols can't believe it when the love of her life turns out to be a dragon slayer. Nora Roberts concludes her Circle of Six trilogy in Valley of Silence where Queen Moira and vampire Cian finally give in to their passion.

Jacquelyn Frank debuts her intriguing new Nightwalker series in Jacob - the demon enforcer must track down human necromancers enslaving his kind. Eileen Wilks continues her character rich and very complex series featuring detective Lily Yu and werewolf Rule Turner in Blood Lines. This time the pair must discover why invading demons are attacking werewolves and other supernaturals. Marjorie M. Liu enthralls with her latest Dirk & Steele adventure Eye of Heaven where she continues unraveling the complexities of the otherworldly agency and its mysterious and powerful agents.

Meet Dr. Fredrika Bimm, mermaid and star of Mary Janice Davidson's Sleeping With the Fishes - follow Fred as she and two sexy mermen try to reel in the culprits polluting Boston Harbor. Alexis Morgan resurrects the Paladins in Dark Defender where Blake Trahern must discover who murdered a close friend while also protecting his daughter from further danger. P. C. Cast returns to the alternate reality of the Partholon in Divine by Choice - Shannon is wrenched back into her own reality and works frantically to stop her evil twin's plans while trying to find a way back to her centaur husband.



Robin D. Popp continues her intriguing Night Slayer series in Tempted in the Night - detective John Boehler throws in his lot with the secretive organization and finds himself attracted to hereditary slayer Jessica Winslow. Jaci Burton puts a nifty twist on a popular reality TV premise in Surviving Demon Island where various high profile contestants compete in what turns out to become a very real demon hunt. C. T. Adams and Cathy Clamp present another rousing SAZI adventure in Howling Moon; this time former Sazi enforcer Raphael Ramirez must coach a recently transformed jaguar after she's bitten by a dangerously evil Sazi serial killer.

Romance News, Author Announcements, Coming Attractions

Gena Showalter's new offering, The Nymph King, is a sexy story filled with dragons, vampires, demons, and plenty of her trademark passion. Get ready to enter a mythical world of dark seduction and powerful magic ... enter Atlantis ... cynical Shaye wants nothing to do with mighty warlord Valerian but she's inexplicably drawn to him. For underneath the warrior's arrogant beauty lies a complex and powerful man. Now Valerian must fight for the privilege of claiming her as his own. Because there's one thing Shaye doesn't know - that when a nymph discovers his true mate, she's his for life.

Chris Marie Green announces her February 2007 release, Night Rising - Welcome to Hollywood, where after dark stuntwoman Dawn Madison is a girl with a lot of attitude — and a lot of issues, mostly about living up to the legacy of her mother, a world famous movie star/sex symbol, whose death left Dawn to be raised by her dad Frank. When he vanishes while investigating the bizarre sighting of a supposedly long-dead child star, she comes home to Tinseltown to join the search.

Kit Daniels hopes contemporary romance fans will check out her latest, Playing Nice - Jessie is a vintage clothing store manager by day, diva in an off-off-off Broadway show by night, her life neatly arranged to her specifications. She's not at all prepared for it to become a comedy of errors or for set-designer Mick Fielding to knock her off her feet. She's even less prepared for the accidents that plague the show or the strange stalker with deadly intent!



Merry Christmas to all!!
---
Note: Opinions expressed in reviews and articles on this site are those of the author(s) and not necessarily those of BookLoons.
---