Sammy's Shelf
June 2012:
If You Promise Cats, You Better Deliver Cats – Lots of Them ...
---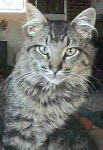 The Great Cat Conspiracy (Beach Lane. ISBN 9781442445130) by Katie Davies looked like my kind of book but, alas, it really wasn't as feline fantastic as I thought it would be.

The story, which is aimed at young readers eight years of age and older, is set in England. I've never been there but my person has and he said it is where the Summer Olympics will be this year. Well, that's kind of cool but this book isn't about sports. The title suggests it is about cats, but that's not totally accurate.

The young narrator of this story has a cat named New Cat and he disappears and moves into a neighbor's house. The Cat Lady is the neighbor who lives alone in a row house which is totally filled with lots of trash and a bunch of cats.

Although there are cats in the book, they aren't allowed to remain on center stage for very long. In fact, this is more of a people book than a cat book.


What little you learn about New Cat presents him in a rather negative light. His behavior is rather bizarre and he seems to delight in making messes and pouncing on the feet of his housemates. When he hunts feet, New Cat locks on with his claws and then sinks his teeth into the person's ankles and hangs on for dear life. Such behavior!

Why the family even wants him back after he leaves is beyond me. If I did something like that, my person would nail shut the cat door after I went out!

But anyhow, this tale really focuses on the narrator, her best friend and her brother and how they befriend the very strange Cat Lady. Eventually the old woman is trapped in her house when she is buried under a mountain of garbarge that topples over on her and the children obviously save her.

Another very eccentric adult in the book is an old gentleman who fought with the RAF in World War II and he's a little loony too. He talks like he's still flying combat missions

At one point this gentleman gives the children these instructions: 'All right, aircrew, belt up: briefing. Basher, you're skipper; Old Lag's second Dicky. Popsie and Blondie, Arse-End Charlies. T.O.T. eighteen hundred hours. So, when I give the green, Skipper's off, in through the cat flap, back door open, bang on target, no silly beggars. Any offensive fire, straight out. Old Chap. All clear?'

Holy catnip! Is this how they really talk in England? If so, I'll never understand what's happening during the Summer Games so I might as well keep watching the Animal Channel.

I'm sure some readers will love this story, especially if they think precocious children are cute. But I was looking for a book where lots of cats would carry the narrative load and that just didn't happen. I have no idea why this work is called a Cat Conspiracy because, as far as I can see, New Cat didn't do much to move this story along. And why conspiracy? Beats me!

If you really want to be a nit-picker (and I do) you can also dump the drawings that accompany the text into the nearest litter box. They are so flat and one dimensional that New Cat isn't even visually appealing nor are any of the other illustrations.

And, while I'm at it, I think that NEW CAT is really a dumb name for a cat! Come on, show a little more IMAGINATION!

Let me tell you, I've learned my lesson. From now on I'm not going to be suckered in by a book that purports to be about cats or features a feline on the cover. Obviously, you really can't tell a book by its cover!
---
Sammy shares living quarters with Bob Walch. Not only does Bob provide the basic essentials for this loquacious feline but he occasionally offers editorial assistance. Find more of the Maine Coon's musings at CoastTraveler.com.
---
Note: Opinions expressed in reviews and articles on this site are those of the author(s) and not necessarily those of BookLoons.
---