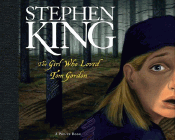 Chapter Book Howlers
by Hilary Williamson
updated October 2011
---
October's here and All Hallows Eve approaches fast, a time of year when it's fun to be a little scared, especially with friends. Reading, or listening to spooky books can set the mood for trick or treating through clinging spider webs and creepy crypts. Here are thirteen eerie selections ...

Barnaby Grimes: Curse of the Night Wolf by Paul Stewart & Chris Riddell
Tick-tock lad Barnaby investigates horrors in Victorian London.

Best Halloween Ever by Barbara Robinson
If there's no Halloween this year, it will be the Herdmans' fault!

Bram Stoker's Dracula by Gary Reed & Becky Cloonan
A graphic novel version of the classic aimed at young readers.

Clemency Pogue: Fairy Killer by J. T. Petty & Will Davis

A girl works very hard to undo the consequences of careless words.

Ghost Hunt by Jason Hawes, Grant Wilson & Cameron Dokey
'Chilling Tales of the Unknown'.

Haunted Castle on Hallows Eve by Mary Pope Osborne
Jack & Annie dare ghosts & ravens to bring order to a haunted castle.

The Invisible Fran: Franny K. Stein by Jim Benton
Franny K. Stein's two-headed robot runs amok.



The Joy of Spooking: Sinister Scenes by P. J. Bracegirdle
A lovely gothic setting and lots of physical mayhem.

Monster Slayers by Lukas Ritter
Hesiod villagers have been kidnapped by flesh-eating gnolls.

My Teacher is an Alien by Bruce Coville
Susan and Peter see their teacher peel off his face.

Nathan Abercrombie, Accidental Zombie: The Big Stink by David Lubar

Nathan's odor is a dead giveaway; he's a real stink bomb.

Nightmare Academy: Monster Madness by Dean Lorey & Brandon Dorman
Charlie, Violet and Theodore save children from their nightmares.

Spiderwick Chronicles by Holly Black & Tony DiTerlizzi
The Grace family move into a mansion with odd noises in the walls.

Have a very happy and safe Halloween!
---
Note: Opinions expressed in reviews and articles on this site are those of the author(s) and not necessarily those of BookLoons.
---