Summer Listening 2005
(May 2005) by David Pitt
---
I know, I know. You've just about got your summer vacation planned, but you have no idea what audiobooks to pack. Relax. I'm here for you.

If you crave excitement, try Rage (Random House Audio, 6 hrs.), Jonathan Kellerman's new Alex Delaware thriller. Performed by the always excellent John Rubinstein, it finds our favorite psychologist-sleuth digging into an old case, and uncovering a modern mystery. Taught and tense, as always.

John Sandford's Broken Prey (Penguin Audio, 11.5 hrs.) is the sixteenth Lucas Davenport novel. Two murders in rapid succession, an obvious suspect, and one big question: is the obvious suspect really the killer? Only Lucas can uncover the frightening truth. Richard Ferrone, who's read almost all of the Prey series, performs this one with verve and aplomb.



The Lincoln Rhyme Collection (Simon & Schuster Audio) offers up three of Jeffrey Deaver's thrillers starring Rhyme, the quadriplegic criminalist, and his beautiful protege, Amelia Sachs. The Coffin Dancer and The Empty Chair are read by Joe Mantegna; Boyd Gaines reads The Stone Monkey. All three novels are very well written, with smart, plot-twist-packed stories and sharply drawn characters. If you're a fan of the Rhyme novels, this one's a must-have. If you're not a fan, why aren't you?

In Velocity (Random House Audio, 9.5 hrs.), the new novel by Dean Koontz, an average joe gets an anonymous note telling him if he doesn't do a certain thing, someone will die. He doesn't, and they do -- and then more notes start coming. What the heck is going on here? Finding out is a lot of scary fun. Michael Hayden's performance is a lot of fun, too.

Harlen Coben's The Innocent (Penguin Audio, 11 hrs.) is the story of a man who spent nine years in prison for killing someone during a fight. Now he's out, and trying hard to get back to a normal life. Then people vaguely connected to him start dying, and he's the prime suspect. A well crafted story that doesn't always go where you expect it to, it's beautifully narrated by Scott Brick.


Not a fan of mysteries and thrillers? Never fear. Here's Lost in the Forest (Random House Audio, 8.5 hrs.), Sue Miller's delicate story of a woman whose world is turned upside down by the sudden death of her husband. Miller explores the tragedy's effect on Eva and her three children compassionately and dramatically, and Blair Brown's performance, while perhaps a little showy in places, nicely captures the story's nuances.

Jacquelyn Mitchard's The Breakdown Lane (HarperAudio, 12.5 hrs.) is the story of Julie, an advice columnist whose own life is in hopeless disarray. Her husband has unexpectedly left her; her children have wandered off to find their father; and Julienne's just been diagnosed with a potentially fatal illness. This could have come off as the worst kind of maudlin tripe, but Mitchard keeps the story moving at a nice pace, and never lets it get bogged down in melodrama or silliness.


Zorro (HarperAudio, 15 hrs.), Isabel Allende's new take on the old story, has been getting a fair amount of publicity. And with good reason, too: while it's not "revisionist," in the sense that Allende isn't interested in busting any myths or recasting the swashbuckling hero of the downtrodden as (say) an 18th-century caped crusader, the novel does give the story new dimensions, new depths, and new morality. Performed by Blair Brown, who does a much better job than she did with the Miller novel, it's sure to keep you entertained.

In The Distance Between Us (McArthur & Company/Hodder Headline Audiobooks, 6 hrs.), Maggie O'Farrell follows the lives of a man and a woman who, while they have never actually met, seem to share an abundance of things ... including the compelling need to escape their own lives. Stella Gonet reads the book so beautifully you'll want to listen to the whole thing again, just for the sound of her voice.

Hodder Headline has also released a series of classic novels, all of them wonderfully adapted and performed. Jane Austen's Pride and Prejudice and Persuasion, two stories of love, passion, repression, and adventure, are vividly performed by, respectively, Juliet Stephenson and Amanda Root. And Gulliver's Travels, Jonathan Swift's satiric tale of an ordinary man in some extraordinary places, is read delightfully by Robert Hardy.

Speaking of delightful, here's To the Baltic With Bob (Penguin Audio, 3 hrs.), Griff Rhys Jones's wacky tale of a landlubber who takes to the high seas in pursuit of adventure. Jones is a comic genius, and if you don't believe me, well, here's the proof.



Since you're already laughing, give a listen to The Hitchhiker's Guide to the Galaxy: The Tertiary Phase (Audio Partners, 3 hrs. 10 min.), written by the brilliant Douglas Adams. This is a full-cast dramatization of Life, the Universe and Everything, the third novel in the Hitchhiker's series. Produced a quarter century after the original Hitchhiker's radio series, this wonderful production features Simon Jones reprising the role of Arthur Dent, an ordinary human whose planet was demolished to make way for a hyperspace bypass. Adams, who died well before his time in 2001, was a gifted and wildly imaginative writer, and this audiobook is a massively entertaining treat for the ears.

In the mood for some non-fiction? Start with Assassination Vacation (Simon & Schuster), written by Sarah Vowell and read by Vowell with an assortment of "special guests" that includes Eric Bogosia, Jon Stewart, Stephen King, and Conan O'Brien. The book's a witty and informative exploration of Americans' fascination with political assassination, a fast-paced intellectual romp that you'd think would be a little odd, and is. But it's also vastly entertaining, and more than a little thought provoking.

For the sports fan we've got a double header, both from Random House Audio. First there's Wilt, 1962 (6 hrs.), written by Gary M. Pomerantz and read by Roscoe Orman. The book chronicles the March 2, 1962, basketball game that saw Wilt Chamberlain, a young player then known as the Big Dipper, score a staggering 100 points. It was the game that launched a career, and Pomerantz and Orman tell the story with all the excitement and sense of awe it deserves.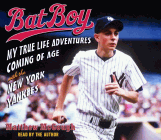 The second half of our double header is Bat Boy: My True Life Adventures Coming of Age with the New York Yankees (5 hrs.), written and read by Matthew McGough. It's the story of a sixteen-year-old boy who gets the job of a lifetime: bat boy for the New York Yankees. He did the job for two years, and this charming memoir is full of fun and adventure and sheer youthful energy. He was having a whole lot of fun, and so are we.

In case you're wondering why Jane Fonda's suddenly been showing up everywhere -- on television shows, in a new movie -- here's why: she has a book to sell. My Life So Far (Random House Audio, 10 hrs.), written and read by Fonda, is one of those autobiographies that feels honest and straightforward, while at the same time you keep thinking: what's she holding back, here? While she's been doing an excellent job of selling her book, the book itself does a less successful job of selling Fonda, who in the end comes off sounding like she's trying to put a whole lot of spin on her own life.



A Lotus Grows in the Mud (Penguin Audio, 6 hrs.), written by Goldie Hawn with Wendy Holden and read by Hawn, is altogether more successful. It feels candid, where Fonda's feels calculated. It's fun, and entertaining, where Fonda's is earnest and dull. It's not one of those Hollywood-gossip books, either. Hawn, who kicked off her career with several delightful comic performances (one of which won her an Oscar), has a spiritual side that's deep and insightful. Considering Hawn's body of work, a surprisingly mature and thoughtful audiobook.
---
Note: Opinions expressed in reviews and articles on this site are those of the author(s) and not necessarily those of BookLoons.
---