Ears Some More Books On Tape!
(January 2005) by David Pitt
---
In 1988, novelist William Goldman and sportswriter Mike Lupica published Wait Till Next Year, which follows several New York Sports teams through an entire season. It's a great book, witty and insightful and just a little snarky, and I've been wishing someone would write another book like it.



Someone has. Stewart O'Nan and Stephen King, two novelists who also happen to be Boston Red Sox fans, have given us Faithful, a detailed and passionate look at the 2004 season (you know: the season in which the Red Sox actually won the World Series). It's a really cool book, written by a couple of guys who don't mind letting you know how much they love their team. It's not one of those looking-back books, either, those retrospectives where somebody shrewdly analyzes things that have already happened. O'Nan and King decided to write the book at the beginning of the season, before anybody knew just how thrilling the season would turn out to be. The unabridged audio book (Simon & Schuster Audio, 16.5) hours is narrated by Adam Grupper and Ron McLarty, and these two nicely capture the authors' excitement and devotion to the Sox.

What with Star Wars: Episode III about to zoom into cinemas, you might want to check out Star Wars: Labyrinth of Evil by James Luceno. It's billed as the prequel to Episode III (not to be nitpicky or anything, but wasn't Episode II the prequel to Episode III?), and it picks up the story at the end of the previous movie, with a massive war a-brewin'. In this novel, powerfully narrated by Jonathan Davis, there are political machinations, a journey across the galaxy, and a danger-fraught mission to find the key to the evil Darth Sidius's hiding place. If you're not familiar with the Star Wars saga, none of this will make a grain of sense to you. If you're a fan, though, you'll have fun.


The Heart is a Lonely Hunter (Caedmon, 13.5 hrs.) was Carson McCullers' first novel. She published it when she was twenty-three, but it has a maturity and an emotional depth that is downright astonishing. It's a complex story of five people -- a deaf-mute; a poor young girl; a black physician; an alcoholic; a cafe owner -- whose lives take paths that are very different and remarkably similar. This unabridged audio production is narrated by Tony Award-winning actress Cherry Jones, and it is simply splendid.

Pete Hamill's Downtown: My Manhattan (Time Warner AudioBooks, 6 hrs.) is a very personal exploration of the city he knows and loves. Part memoir, part history, the book explores the city's highs and lows; takes us to places that are little known, famous, infamous; introduces us to some of the city's more notable citizens, people with names like Astor and Hearst and Pulitzer and Stuyvesant; and shows us how Hamill, who spent four decades as a newspaperman, is very much a product of the city he calls home. The audio book is narrated by Hamill, because who else knows the story as well as he does?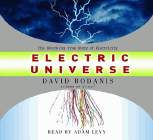 A few years ago, David Bodanis wrote a marvellous book called E=mc˛. It was the history of the world's most famous mathematical equation, and it was just riveting, a real page turner. His new book, Electric Universe (Random House Audio, 5 hrs.), subtitled "The Shocking True Story of Electricity," is just as exciting. It begins more than three centuries ago, with a little query from a man names Alessandro Volta that changed the entire course of human discovery. It's a story of curious people doing curious things with curious results; of exhilarating victories and crushing defeats; of remarkable ironies and out-of-left-field surprises. Narrated by Adam Levy with plenty of gusto, it's one of those science books that is both educational and massively entertaining.

Agatha Christie, I'm sure you don't need to be told, was one of the mystery genre's giants, the author of so many classics that I won't waste your time listing them here, creator of a bunch of memorable characters including Miss Marple and Hercule Poirot, the little Belgian man with a knack for detection. In Murder in the Mews (Macmillan Audio, 1 hr.), Poirot is investigating, what else, a murder, but one that was disguised to look like a suicide. Can he crack the case? Well, of course he can, we all know that, but the fun is in watching him do it. Steven Pacey performs the story perfectly, too, which is no mean feat considering most of us already have our own idea of how the great Hercule should sound.


Nelson DeMille has written a handful of solid thrillers, but Night Fall (Time Warner AudioBooks, 6.5 hrs.) is a little different -- deeper, somehow, and more elegant. Maybe it's because the story is inspired by a true event: the explosion of TWA flight 800 in 1996. As DeMille tells it, the explosion was linked to a man, a woman, and a rather racy videotape. The novel's hero, a former NYPD detective now working with the Federal Anti-Terrorist Task Force, and his task force partner (who is also his wife), may be the only two people who suspect the truth ... but can they prove it before certain powerful individuals shut them up for good? As always, DeMille provides plenty of action and suspense, but this time out the story resonates on a more emotional level. He's maturing as a writer. Scott Brick's excellent narration propels the story, moves us swiftly from one exciting moment to the next.

James Patterson, a good writer who lately has become almost too prolific for his own good (how many books can you publish in a single year without sacrificing quality for quantity?), has churned out another Alex Cross thriller, the tenth in this increasingly formulaic series. This one is a sequel to The Big Bad Wolf, which pitted our psychologist/detective/FBI agent hero against (as usual) a wickedly cunning villain. Now, in London Bridges, the Wolf, a nasty Russian mobster, teams up with a villain from an earlier Cross adventure, the Weasel, to, well, weasel large sums of money out of the governments of several major cities in return for not launching terrorist attacks against them. Naturally, only Alex Cross can avert disaster. It's a solid enough story, decently well told, but it doesn't measure up to the earlier Cross novels, which were perhaps written when Patterson was still taking the time to choose his words carefully. Even the narrative, here, gets sloppy toward the end, with several plot twists piled on top of each other, some of which feel distinctly like cheats. The performers, Peter Jay Fernandez and Denis O'Hare, do their best (O'Hare, especially, is very good), but the material lets them down. If you're a rabid Patterson fan, you'll want this one; if you're new to the Cross series, this isn't the best introduction to it.


Richard North Patterson, a former trial lawyer, writes very good, very detailed thrillers set in and around the world of politics. In Conviction (Random House Audio, 6 hrs.), Rennell Price, an inmate who's spent the last fifteen years on death row, is finally approaching the day of his execution. He has fifty-nine days to live, unless Terri Paget, an attorney who doesn't believe in giving up a fight, can prove they convicted the wrong man. When she uncovers new evidence that points to her client's innocence, she thinks she has a chance to save him -- but she soon finds that capital punishment, once the appeals are finished, is like a big rock rolling down a steep hill: almost nothing can stop it. A story of politics and morality and a life hanging in the balance, the novel is suspenseful, emotional, and thought provoking, all at the same time. Narrator Patricia Kalember has a tough job to do, and she does it very well indeed.

---
Note: Opinions expressed in reviews and articles on this site are those of the author(s) and not necessarily those of BookLoons.
---