Listen Up!
(May 2004) by David Pitt
---
Pssst ... can I have a word? Several of them, actually.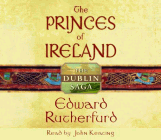 Edward Rutherfurd, the British novelist, writes big books with big ideas. His latest, The Princes of Ireland (Random House Audio, 9 hrs.), begins in Ireland, before the time of Christ, and takes us right through to the Irish invasion of England that got King Henry VIII all upset. With a huge cast of characters, one rousing historical event after another, and plenty of shrewd insight into human nature, the book is perfect for fans of epics. And the audio abridgement -- which, even though it's condensed, still takes a third of a day to listen to -- is performed with grace and a sense of occasion by John Keating.

An epic of a different kind is The Meaning of Everything (Harper Audio, 8 hrs.), written and read by Simon Winchester. The author of the deservedly best-selling The Professor and the Madman, about the Oxford English Dictionary and its most interesting contributor, this time tackles the history of the English language, and some of the most influential dictionary writers (like Samuel Webster, for instance), and, finally, the OED itself. It's a massively fascinating story, told with Winchester's usual eye for detail. It's also worth pointing out that this audio book is unabridged: every word of the book is here. (And it still only runs eight hours, an hour less than the abridgement of Rutherfurd's novel. I wasn't kidding when I said Rutherfurd writes big stories.)


Clara Callen (BTC Audio Books, 4 hrs.), written by Richard B. Wright, is the story of two small-town sisters and the different paths their lives follow. Nora winds up in New York, starring in a radio soap opera (did I mention the novel takes place during the Depression?), while Clara, the elder sister, stays home and becomes a schoolteacher. But, as Clara's diary reveals, her life might actually contain more mystery, excitement, and danger than her sister's. This dramatization is performed by four people -- Jennifer Dale, Cynthia Dale, Janet Wright and Tom McBeath -- and is simultaneously a sharp character study, a chronicle of the early years of the radio biz, and a portrait of a world numbed by the Depression and poised to wage a world war.

Here's another story about two young women. Kelly models for Victoria's Secret catalogues; Chloe works for an escort service, or she did, until she chucked the job to hook up with Tony Paradiso, an eighty-four-year-old retired attorney. Mr. Paradise (Harper Audio, 8 hrs.) is Elmore Leonard's latest tough, witty, thoroughly delightful thriller -- the first, by the way, to be set in Detroit in a couple of decades. As if that weren't enough reason to grab this audio book, here are two more: it's unabridged, and it's narrated by the wonderful Robert Forster, an excellent actor who spent far too long being far too underrated. Forster starred in the television series Karen Sisco, based on a character in Leonard's novel Out of Sight, and he got an Oscar nomination for Jackie Brown, a film based on another Leonard novel, Rum Punch -- all of which means he's well versed in the language and rhythm of Leonard's stories. He's perfect, here, and so is the story he's telling.



If you're in the mood for more action, check out Bad Business (Random House Audio, 6 hrs.), a new Spenser adventure written by Robert B. Parker and performed, beautifully, by Joe Mantegna. This time out, Spenser is hired by a woman to find out if her husband's cheating on her. Not only is the husband cheating, but -- well, never mind. We'll let Parker spin the tale. Let's just say it's a tale worth listening to, and leave it at that.

Finally, here's The Bookman's Promise (Simon & Schuster Audio, 6 hrs.), the new Cliff Janeway mystery by John Dunning. Janeway, the cop turned rare book dealer, is hot on the trail of a collection of material by and about Richard Burton (not the actor, the explorer), and everywhere he turns he runs into danger ... and murder. Dunning, a rare book dealer, packs the Janeway series with so much detail about the world of the book collector that you'll not only enjoy a good mystery, you'll get an education, too. George Guidall's performance is straightforward and engaging.

Talk to you later.
---
Note: Opinions expressed in reviews and articles on this site are those of the author(s) and not necessarily those of BookLoons.
---