Listen Up for the Holidays!
(December 2003)
By David Pitt
---
I know what you're thinking: who the heck's got time to read during the Christmas season? Rush rush rush, buy buy buy, wrap wrap wrap, and so forth. Now's the time to pop a cassette in your Walkman -- or reasonable non-trademarked facsimile -- and listen to some good books.



If you're like most people, you didn't see the movie Matchstick Men when it was in theaters. (On a personal note, I want you to know you missed a very fine movie, and it's your loss.) Ridley Scott's film was based on Eric Garcia's novel of the same name. The Matchstick Men audiobook (Harper Audio, 6 hrs., unabridged) is performed by Stanley Tucci, and he perfectly captures the novel's offbeat tone and skewed perspective. This is a funny, suspenseful, and ultimately moving story of two con men, a long-lost daughter, and a whole lot of twists and turns, and you really should give it a listen.

Seabiscuit, the story of the famous racehorse and the people who linked their fortunes to his, was a popular movie. It was based on Laura Hillenbrand's excellent book, and the Seabiscuit audiobook (Random House Audio, 6 hrs.), performed by Campbell Scott, is nearly as good as the book. It proves that you don't need Technicolor moving pictures to tell a fast-paced, exciting story.

Mystic River (Harper Audio, 6 hrs.), performed by David Straithairn, is the audio adaptation the Dennis Lehane novel that's the basis of Clint Eastwood's new movie. It's the story of three boyhood friends, all grown up now, who find themselves at odds when one of their daughters is murdered. In the novel, Lehane layers on the levels of subtext, and Straithairn does an excellent job of getting the book's subtlety across to the reader. It's first-rate.


Also first-rate is Ethan Hawke's magnificent performance of Kurt Vonnegut's magnificent novel Slaughterhouse-Five (Caedmon, 6 hrs., unabridged). The book, which was made into a great movie three-odd decades ago, is about Billy Pilgrim, a man 'unstuck in time,' who's living his life out of sequence. It's a brilliant book, and this audio version is a genuine treat. As an extra treat, you'll also find an interview with Vonnegut, and a recording of Vonnegut performing selections of the novel himself.

Speaking of movies, here's Death by Hollywood (Random House Audio, 6 hrs., unabridged), the first novel by television producer Steven Bochco, the guy who gave us Hill Street Blues, LA Law, and NYPD Blue, among others. It's a tale of murder, ego, deception, and ambition set in Hollywood, a town Bochco clearly knows like the back of his hand. I was expecting the novel to be good -- Bochco is an excellent screenwriter -- but I wasn't expecting it to be as good as it is. Rarely do you find a first novel this accomplished, this polished. Oh, and the audiobook is performed by Dennis Franz, whom you might know from NYPD Blue. I can't think of anyone better suited, either.

While we're on the subject of murder, let's take a look at a few mysteries available in the audio format. No Second Chance (Penguin Audiobooks, 14.5 hrs., unabridged), by Harlen Coben, tells the story of a surgeon who wakes up in the hospital one day to find his wife has been murdered and his daughter's been abducted. Then he gets a ransom note, and the story kicks into high gear. Coben is a thoughtful, precise writer, with an eye for detail that gives his novels an element of realism that many thrillers lack (we'll get to one of those in a few moments), and the performance by Scott Brick captures all of that nicely.

The Big Bad Wolf (TimeWarner AudioBooks, 8 hrs. unabridged) is the latest Alex Cross yarn from James Patterson. Performed by Peter Jay Fernandez and Denis O'Hare -- it's rare, but usually a lot of fun, to have two narrators -- the novel finds our hero, now a newly minted FBI agent, wading hip-deep in a plot involving a series of daring kidnappings. Patterson's writing is starting to get a little sloppy (he's turning out an awful lot of books in rapid succession) but Cross is always fun to hang out with.



Resolved (Simon & Schuster Audio, 4.5 hrs.) is Robert K. Tanenbaum's latest action-mystery. A killer has escaped from prison, and he's bent on revenge against the cops who arrested him ... and, most importantly, against Butch Karp, the DA who put him behind bars. Karp, who's starred in several Tanenbaum novels, is an interesting guy, and his adventures are always exciting. The performance, by Lee Sellars, is a little flat, but not flat enough to be a nuisance.

Christopher Reich has written a couple of really good thrillers, Numbered Account and The First Billion. He's also written a couple of mediocre thrillers, The Runner and his new one, The Devil's Banker (Random House Audio, 6 hrs.), all about a forensic accountant who gets mixed up in international terrorism. It's all kind of dull, lacking in the kind of verisimilitude that makes a good thriller. Instead of men and women moving about in a vividly realized world, we have stick figures set against a badly drawn, mostly out of focus backdrop. It's not a very good novel, but the audio abridgement, performed by Campbell Scott, smoothes out many of the story's rough edges and turns it into pretty good entertainment. Skip the paper-and-covers version, and go straight to the audio.

Similarly, I'm not a big fan of Tess Gerritson's new novel, The Sinner, mostly because it reads like a retread of her earlier bestsellers. Sure, the characters are different -- in this one, a medical examiner who discovers that a murdered nun recently gave birth -- but the storytelling is the same: by-the-numbers mysteries that are, in the end, not all that mysterious. But, again, the audio abridgement improves on the original, speeding up the pace and cutting out some of the particularly dull narrative passages. The performance, by Dennis Boutsikaris, is excellent, as always.

From mystery to history: Benjamin Franklin: An American Life (Simon & Schuster Audio, 7 hrs.), Walter Isaacson's biography of the journalist, inventor, and all-around genius. It's a rich, entertaining biography, the kind of book that, no matter how much you think you know about the subject, teaches you more. Boyd Gaines's performance is fine, but it's the material that shines here.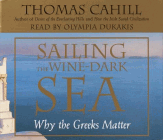 Sailing the Wine-Dark Sea (Random House Audio, 6 hrs.), by Thomas Cahill, explores the connection between the ancient Greeks and modern civilization and culture. Here are just some of the elements of our world that we inherited from their world: politics, warfare, logical discourse, physics, medicine, and large chunks of the arts. The world wouldn't be what it is today without the ancient Greeks, and Cahill, who also gave us How the Irish Saved Civilization and The Gifts of the Jews, lays out the story simply, clearly, and with the kind of scholarship that never feels like we're in school. Olympia Dukakis, the veteran actress, performs the audiobook as though she loves every single word of it.

Yogi Berra, the New York Yankees catcher who got famous for putting words together in odd sequences (call him Mr. Malaprop), played in ten World Series championships. Ten Rings (Harper Audio, 5 hrs., unabridged), by Berra with Dave Kaplan, takes us through each of those seasons, plus the ones in between. Like Berra, the book is funny, offbeat, and thoroughly engaging. The book is read by Dale Berra, Yogi's son.

Franklin and Winston (Random House Audio, 9 hrs.), by Jon Meacham, focuses on the relationship between two of the Second World War's key players, Roosevelt and Churchill. Drawing on fresh sources, like letters, documents, and interviews, the book adds new elements to the story of World War Two. It's a welcome addition to the voluminous literature on the period, and Len Cariou, who performs the audiobook, somehow manages to keep everything straight for us -- which is good, since an audiobook doesn't come with an index you can flip through to remind you who's who and what's what.

By Sorrow's River (Simon & Schuster, 11.5 hrs., unabridged) is the third volume of Larry McMurtry's Berrybender Narratives. The transplanted British family continues its trek across the American west toward New Mexico, encountering an assortment of offbeat characters and getting mixed up in all manner of wild and wonderful goings-on. If you're a fan of McMurtry's slightly odd Westerns (like, oh, Lonesome Dove, which won a Pulitzer), you'll like this one a lot. If you're not a fan ... well, be warned: it's not your typical Western. The performance, by the way, by Alfred Molina, is sterling.

---
Note: Opinions expressed in reviews and articles on this site are those of the author(s) and not necessarily those of BookLoons.
---