Listen Up!
(February 2003)
By David Pitt
---

Have you seen the movie Catch Me If You Can? It's based on the book by the same title by Frank W. Abagnale and Stan Redding; Abagnale was the young conster, played in the movie by Leonardo DiCaprio, who, before he was twenty-one, posed as a lawyer, a doctor, an airline pilot, all so he could pass bad checks and make himself a small fortune. The book has been issued in audio format (Harper Audio, 6 hrs.) to tie in with the release of the film; read by Michael Cerveris, it is, in its own way, as thrilling as the film. It's a lighthearted story of deception, bravado, and sheer, unadulterated charm; a lot of fun, in other words.

Also a lot of fun is Star Trek Nemesis (Simon & Schuster Audio, 3hrs.), performed with gusto by Boyd Gaines. The audiobook is adapted from J.M Dillard's novel which was based on the screenplay for the latest Star Trek movie, a rip-roarin' tale pitting our dear old Federation gang against the ruthless Romulans. It's all played as the last time we'll see this crew together, and it's the series' usual combination of sci-fi adventure and down-to-earth, character-based drama. Perfect for fans, although it's worth pointing out that if you're unfamiliar with the Star Trek universe, large chunks of it won't make a grain of sense whatsoever.



Here's one that, if history is anything to go by, will soon be appearing on the big screen: Prey (Harper Audio, 6hrs.), the new novel by Michael Crichton. It's a wildly implausible, but thoroughly enjoyable, tale of a high-tech development gone awry, leading to a sentient, and apparently deadly, cloud of nanoparticles menacing a small group of plucky scientists trapped inside their Nevada laboratory. Robert Sean Leonard's performance is energetic, and carries us through to the rousing conclusion.

Speaking of Crichton, here's Utopia (Random House Audio, 6 hrs.), by Lincoln Child. This story of a high-tech theme park infiltrated by evildoers who take over the park's computer systems, turning it into one massive instrument of death. It's a solid, decently constructed story, something like the first draft of a Crichton novel: the raw material is here, but the novel lacks the oomph of, say, Jurassic Park or even Westworld, the Crichton-directed film to which Child's novel bears more than a passing cosmetic resemblance. Eric Stoltz performs the book with intensity; he gives the story a level of drama and danger the words themselves never achieve.

If you like drama and danger, check out When the Women Come Out to Dance (Harper Audio, 6 hrs.), a collection of short stories by the great Elmore Leonard. Here's Karen Sisco, the Federal marshal from the novel Out of Sight, in another semi-romantic adventure; here's Raylan Givens, from Riding the Rap and Pronto, reuniting with an old buddy and discovering even the closest friendships can change; here are nine stories in all, two of them short novels, all of them wonderful. So is the performance by Taye Diggs, who's perfectly suited to Leonard's tough-guy-with-a-sense-of-humor tone.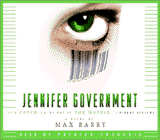 Max Barry's got a rather large sense of humor, too, if Jennifer Government (Random House Audio, 5 hrs.), his new novel, is any indication. Set in the near future, it's the story of a government agent hot on the trail of the despicable cad who killed several people at a suburban shopping mall. Sounds kind of ho-hum so far, doesn't it? But try this: in this particular near future, big corporations run the world; the police is a publicly-traded company; the government is on its last legs, authority-wise; taxes are a thing of the past; and a person's last name reflects the company they work for. Thus our heroine's name, Jennifer Government; thus Hack Nike, the hapless pawn in the evil machinations of John Nike and John Nike; thus Billy NRA, Rendell Exxon-Mobil, and a cast of hugely entertaining players. This is a one-of-a-kind novel, a drama told with the wink-wink style of a satire, and, I'm pleased to report, Patrick Frederic's performance captures every nuance.

The Sculptress (Macmillan Audio Books, 3 hrs.) is one of Minette Walters' best novels: the story of a woman who's confessed to murdering and dismembering, her sister and mother, and that's only scratching the surface of the remarkable Olive Martin. This audio production, narrated by Barbara Flynn (you may know her as Fitz's long-suffering wife in the Cracker television series -- the British series, not the boring American remake), is thoroughly captivating, as deeply twisted as the novel itself.



Finally, here's John Gielgud (Hodder Headline Audiobooks, 3 hrs.), written and read by Sheridan Morley. Billed as the only authorized biography of the great British stage and screen actor, it is in no way a puff piece. Morley, a veteran biographer, tackles the toughest, most private aspects of Gielgud's life, lays them all out for us, brings us so close to the man that we feel as though we've actually met him. I'm quite the fan of Gielgud's work, and this biography was everything I wanted it to be. My only quibble with the audiobook is that it's abridged, which means, sadly, some bits of Gielgud's life are left out.
---
Note: Opinions expressed in reviews and articles on this site are those of the author(s) and not necessarily those of BookLoons.
---