Val McDermid
e-interviewed by Hilary Williamson (January, 2009)
---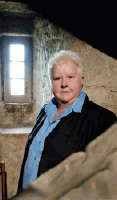 S
cottish crime writer Val McDermid grew up in Kirkcaldy on the East Coast of Scotland, at the heart of the Fife coalfield. She spent a lot of her childhood with grandparents in the mining village of East Wemyss (a location featured in her new book, A Darker Domain). She graduated from Oxford University in 1975, and worked for many years as a journalist on national newspapers in Glasgow and Manchester. She began writing crime novels in 1984 and is now the author of twenty-two novels. She finally gave up her day job in 1991.

V

al McDermid's books have won the Gold Dagger Award for Best Crime Novel of the Year and a Los Angeles Times Book Prize, have been selected for the New York Times' 100 Notable Books of the Year list, and have been nominated for the Edgar Award. She divides her time between South Manchester and Northumberland, and has a son and three cats. Her latest novel - starring Fife Constabulary DI Karen Pirie dealing with an entanglement of cold cases - keeps readers guessing from the first page to the last.



Q: Your site calls A Darker Domain a standalone title. Is that truly the case? I enjoyed meeting DI Karen Pirie and would like to see more of her.

A: Well, put it this way. It's meant to be a standalone. But then, so was The Mermaids Singing, and I'm currently working on the sixth Tony Hill & Carol Jordan novel ... To address your question a little more seriously - this isn't actually the first appearance of Karen Pirie. She plays a small but crucial role in The Distant Echo, a previous standalone. How I like to think of my standalone novels is that they all occupy the same fictional universe so there are moments of crossover where it's appropriate. So, Dr Fiona Cameron from Killing the Shadows has a cameo moment in The Distant Echo; forensic anthropologist River Wilde is introduced in The Grave Tattoo ahead of her appearance in A Darker Domain. It's partly a literary conceit, partly a manifestation of my laziness! At this point, I have no plans to use Karen again, but that answer may not be the same in a year's time.

Q: The mining community is at the heart of A Darker Domain. Do communities like this still exist, and if so, have conditions improved for them?

A: In the aftermath of the catastrophic miners' strike, the deep mining industry in the UK was almost completely eliminated. So the villages whose raison d'etre had been the pit found themselves cast adrift. The government of the time was entirely unsympathetic to their plight and most of those communities perished, one way or another. Those who could find alternative work generally moved away, leaving the villages populated by pensioners and the unemployed. Some have found new life as dormitory communities, a few have managed to replace the mine with something else, but mostly they've become the sort of grim little towns where you wouldn't live if you had a choice. It's similar, I think, to the way KC Constantine describes Rocksburg in his novels.

Q: A Tuscan holiday is also key to the unfolding of the novel - to what extent are the location and local people based on your own holidays there?

A: I've been visiting Italy for years and I know parts of it quite well. There is a place in the unfashionable part of Tuscany where I go most summers. The whole story started when a friend who was visiting us went for a run and investigated a ruined casa collina and found pretty much what Bel Richmond describes. Including the posters ...
Our friends there do breed rare pigs, and the farmer's wife does cook superb dinners for us. But the pigs' diet is definitely not cannibalistic!

Q: The answers to most of the questions raised in the book took me by surprise. How do you build such brilliant misdirection into your storyline, and do you enjoy laying all the false trails?

A: I tell myself stories. I have a pretty low boredom threshold and I never write anything down in the early stages of developing a book. So I have to find twists and turns that keep me entertained and make me excited enough to remember them when I later start writing. When I'm thinking about a book, the two fixed points are the beginning and the end, so I can figure things out both backwards and forwards to make sure they all dovetail. To be honest, I don't think too much about how I do it - I'm always a little wary about analysing things too much.

Q: My favorite of your books are still the early Kate Brannigan series - what made you stop writing them?

A: Partly I found Manchester less interesting to write about. A lot of the edginess of the 90s had dissipated and the city felt kind of smug. But mostly it was that stories for Kate stopped pounding urgently at the doors of my imagination. I've always written the books that clamoured most loudly to be heard and those have not been Brannigans. I do have an idea for one more, but I'm not sure how possible it would be to do it now. I think Kate and the city might have changed too much.

Q: Intuitive Detective Chief Inspector Carol Jordan and scruffy profiler Dr Tony Hill seem in a way an evolution of Kate Brannigan and her rather wimpy boyfriend - do they owe anything to these earlier characters?

A: Not in my head they don't. Not least because they don't look or sound anything like each other in my head. But that's one of those areas where the reader's perception may be more insightful than mine.

Q: You really have put Carol and Tony through the wringer and given them a rocky relationship; will that continue in this year's The Fever of the Bone?


A: Oh yes. No reason to start being nice to them now ... There were a lot of loose ends left by Beneath the Bleeding in terms of Tony's history in particular. Now I get to have some fun unravelling that. I can promise they'll both still be alive at the end of the book. Or at least, I think I can ...

Q: I appreciated the perspective on men in black in last year's Beneath the Bleeding - does that in any way reflect your own views?

A: I can't pretend I am comfortable with the steps our government has taken in the so-called 'war on terror'. The sacrifice of civil liberties seems to me to be out of all proportion to the threat. I know enough lawyers who work directly in this field to have an informed skepticism about much of what is being done in the name of security.

Q: I particularly liked the discussion of the psychology of sanction and how TV shows, by forcing viewers to suspend disbelief, gradually condition them to sanction acts they wouldn't have before. As Carol Jordan puts it, 'You're saying that what they see on TV makes the punters accept more extreme behaviour from law enforcement?' This has always worried me about the U.S. series 24. Are similar stances taken in British TV shows?

A: Not as extremely as in 24, which we see over here. But there are some worrying examples. In the book, I refer to an incident in the first series of the BBC's Spooks, where an MI5 operative is pushed face down into a hot deep fat fryer. There have been other instances in that series where the people on 'our' side, the supposed good guys, take the kind of action that I believe would have generated a lot more controversy a few years ago. We have, I think, become more blase about these things now and because the other side is portrayed as being monstrous and heartless, it's as if that makes it OK. And it's not OK, which we all know if we stop and think about it.

Q: TV series often diverge from the books they're derived from (e.g. Bones, which I enjoy quite differently from Kathy Reichs' forsensic thrillers) - has that happened with The Wire in the Blood?

A: Superficially, to a degree. Mostly because there is now no Carol Jordan in the TV series. But the ambience and the complexity of the story-telling continues. I think they occupy the same ficititious landscape.

Q: What's next after The Fever of the Bone?

A: Another standalone. There are two ideas I'm playing with right now. No idea which it will be ....
---
Find out more about Val McDermid, her background, her books, and the TV series Wire in the Blood; join the message forum; listen to podcasts; and enjoy puzzles and games at ValMcDermid.com.
---
Note: Opinions expressed in reviews and articles on this site are those of the author(s) and not necessarily those of BookLoons.
---