BookLoons Recommended Reads 2009
by Hilary Williamson
---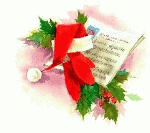 T
his morning, the great outdoors in the woods where I live was frosted a sparkling silver, spreading from the ground all the way up the bare tree branches, which looked ready and waiting for bows and baubles, gifts and garlands. While admiring this natural beauty, I was also reminded that the festive season's not far over the horizon - tempus fugit.

Time again for lists - to-do lists for holiday preparation and lists of presents for friends and family. Books make ideal gifts in these lean times. If you have readers to buy for, look over our recommendations below of the best of the year (limited to three per genre with the usual tearing of hair and personal bias). Note that they are mostly hardcovers - check out our Recommended Reads 2008 for excellent titles probably published in paperback in 2009.
---
Note: Opinions expressed in reviews and articles on this site are those of the author(s) and not necessarily those of BookLoons.
---