Portstewart Strand
By Hilary Williamson  (1966)
---
To my grandfather and father, with joyful memories of brisk cliff walks
at sunset, chilly beach picnics in spitting rain, dashes and splashes through
chill, salty waves, and the endless, exuberant thrills of sliding down giant
sand dunes behind the beach (strand) at Portstewart, Northern Ireland.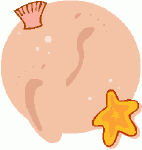 The giant sun reflected on the water
Orange on black
Sand dunes shadow on deeper shadow
Waves pulse upon the shore
To the rhythm of some universal heart
A solitary figure far down the beach
The old man smokes his pipe
Anchored by the chain of his footprints in the wet sand.
---
Find out more about the two mile beach and sand dunes of Portstewart Strand, and see lovely photographs, at the Northern Ireland National Trust.
---
Note: Opinions expressed in reviews and articles on this site are those of the author(s) and not necessarily those of BookLoons.
---