Porcini and the Passeggiata
By Mary Ann Smyth
---
Il Campo Ristorante in Siena, Italy afforded my friends and I a perfect view of the Piazza del Campo. This was our first night out for a meal since arriving at Centolivi, a villa near Palaia in the Tuscan hills. Tables, dressed in stiff white linen, clustered under a sheltering awning. Equally stiff dinner-sized napkins were, with a quick twist of an elevated wrist, snapped open in the clear August air and placed deftly on our laps. We nibbled on bruschetta as we sipped a Rosso di Montalcino.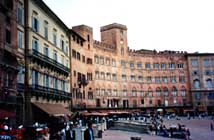 Medieval buildings, bricks the color of old red clay, were bathed in the light of a dying sun. As we watched, they softened to a dusty rose. Shadows on the structures' facades made the walls appear to undulate with life. The lovely thirteenth and fourteenth century buildings survived the Black Death, war and then financial ruin. With no money to modernize, the town remains trapped in time.

Speaking of the Etruscans, who came to Siena before the Romans, we watched the bustle in the rounded square. A gelateria (ice cream stand) swarmed with customers choosing from a wide selection of flavors. Souvenir hunters shopped for postcards, calendars and T-shirts. Scurrying waiters raced amongst the full tables of another restaurant, linen towels draped over outstretched forearms. The door to a museo (museum) in the base of the tower of the Palazzo Pubblico (the town hall) swung open time after time as visitors entered its medieval state rooms. We could make out tiny figures at the top of the three hundred-foot bell tower, the second highest medieval tower in Italy.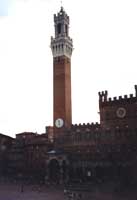 A large platter went by perched on a waiter's extended hand - full of what looked like large round rocks about the size of a big man's fist. Mounded high, with clinging clumps of dirt, it seemed to be a tower of chocolate-covered profiteroles left to molder in the sun. We watched as it was presented with a flourish to a couple seated nearby in the crowded outdoor restaurant. Our waiter Luciano appeared as though transported from one spot to another - he didn't rush through the tables skateboarder style like the other waiters but simply seemed to materialize beside us.

Placing another platter of the dirty rocks on our table, Luciano told us they were porcini. Our repugnant expressions elicited more, 'These are mushrooms.'

'Mushrooms? They're so big. Are they on steroids? And why do they still have dirt clinging to them?' asked one of my friends.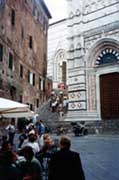 Luciano told us they are only washed just prior to cooking, 'You may choose the one you prefer and we shall grill it for you with just a dash of the lightest olive oil.' We each chose our very own porcini (being assured that one apiece would be more than sufficient) and thus became acquainted with a local delicacy. Magnificent! An earthy flavor with a touch of herbs - meaty and filling, not unlike a thick cut of beefsteak. We consumed the following course of fettucine with a garlic and lemon sauce, along with big slabs of crusty bread dipped in a small saucer of herbed olive oil.

While munching, we watched the beautiful piazza fill with people- old and young, big and small; fathers pushing baby carriages; old women using canes; younger women dressed in the height of fashion; children holding hands with their parents; dogs on leashes. Business slowed down. Fewer tongues caressed cones of gelato. The line at the souvenir store evaporated. The figures in the bell tower vanished appearing again amongst the piazza strollers. Replete diners exited both restaurants to join the slowly moving crowd. A handsome couple with two toddlers passed us for a second time, no apparent purpose to their walking. They strolled slowly as they chatted and exchanged pleasantries with friends who passed by.


The atmosphere of the ancient piazza, where a famous and cutthroat horse race is run twice a year, changed from one of ordered chaos to the relaxed style of a family picnic where everyone knows and is glad to see everyone else. 'Luciano,' I asked, catching his eye. 'What is everyone doing? Is something going to happen?'

'Signora, this,' he answered, arms spreading expansively, 'is the passeggiata.' He looked at us as if we should have no doubt as to what we were witnessing. We had done our homework before leaving home for Italy, and learned that passeggio is a stroll, a promenade. Already feeling immersed in Italian culture, the three of us had planned to take a passeggio on the quiet roads around our villa or in some of the hilltowns. Boy, did we ever get it wrong. The passeggiata we witnessed in Siena was a stroll on a much grander scale. As we watched, more walkers descended into Piazza del Campo from streets feeding into the gracious medieval-like setting. We quickly paid for our meals and said goodbye to Luciano, who urged us to join the crowd.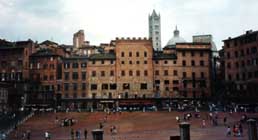 It became evident this was the place to see and be seen. I was reminded of block parties in my neighborhood when I was a small child. All the neighbors turned out to be a part of a happening. The Piazza del Campo's block party was in a much more gracious setting. We joined the moving throng and soon found ourselves nodding and speaking to people we never saw before and would never see again. We became Italian for a brief span of time in that piazza glowing in the setting sun. We felt a part of the throng, not just visitors lucky enough to happen on a moving event ... a fitting conclusion to an extraordinary meal.
---
Notes:
The author retains all rights to this article.
---
Note: Opinions expressed in reviews and articles on this site are those of the author(s) and not necessarily those of BookLoons.
---