Loons, Raccoons and an Electric Outhouse
A Midsummer Night's Tale
By Hilary Williamson
---
Now that Summer is beginning to dwindle into Fall, and its leaves are preparing to don bright ball dresses and dance with the wind, my memories of sultry midsummer nights soften into nostalgia ...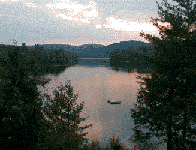 We have always loved camping in the summertime. When I think back to years of changing diapers in tents, shepherding small kids away from open fires, and fending off clammy tent walls and encroaching floods in raging storms, I suspect a hidden strain of masochism (or perhaps it's the same principle as the one behind banging heads against a brick wall).

But we have always loved camping, and after years of drive-in campgrounds with water tap (and noisy neighbors) nearby, we acquired an undeveloped property on a lake, surrounded by wilderness. Thought we were all set for a peaceful retreat from the constant din of urban life. We didn't notice our new neighbors, the ones who had been there all along.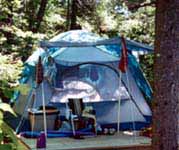 First we camped close to the dirt road on a height, expecting a bug-free interlude in which to scope out a better, long-term site. Wrong! The porcupine perched in a nearby treetop was noisily unimpressed by our invasion of his territory, and a raccoon rummaged messily through our supplies. The bugs were voracious, though the swatted insects that landed in our burgers added an extra je ne sais quoi to the diet.


We soon relocated beside the lake and its gusty breezes, hoping to leave the raccoon behind on the high road. Not so; he was soon staring boldly at us from a nearby tree, daring us to secure our foodstuffs from his superb scavenging skills. This masked bandit won every skirmish of the nightly battle that ensued, eating through heavy plastic garbage bins and food cooler tops with no difficulty at all.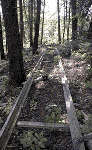 We built a small train to carry our goods up and down hill - two wooden tracks and a wheeled platform. Of course, the tracks quickly buckled and the train fell off every few feet. It, and its heavy loads, had to be lifted back on to the rails half a dozen times on each ascent and descent. But the kids (extreme fans of Thomas the Tank Engine at the time) had a ball riding the rails.

The loons were a joy to watch on the lake, and their loud banshee calls ensured that we didn't waste much of the darkness in sleep. The raccoon did his part by clattering amongst pots, pans and puddings. We soon discovered, that first raccoon (and all his descendants) to have a sweet tooth and a penchant for baked goods ... it's their territory and they will defend the right to every last poppy seed strudel on it.

We used a portable camping toilet, and were able to locate it in sites with splendid views down the lake; chipmunks and squirrels often lingered nearby. But rainstorms were chancy, an umbrella held by the chin wobbling too much to be effective. So, over the years we have let civilization encroach gradually, and camping has become more luxurious and less wild.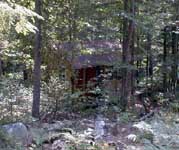 Now a pump pulls cold water up from the lake and the portable toilet has been replaced by a remarkable recycling device which most closely resembles an electric outhouse. Though it keeps the rain off, I find I miss the views and the companionship of the local wildlife. Camping is still magical but it's not quite as exciting as the total outdoor experience used to be.

As we left our campsite after another sleepless summer, I wondered how all the critters there feel about our absence. Do they celebrate their continuing victory over human incursions, or do they wonder about the strange, noisy humans as much as we did about our nocturnal neighbors?
---
Note: Opinions expressed in reviews and articles on this site are those of the author(s) and not necessarily those of BookLoons.
---