Gondolas, Gourmands & Glaciers
By Mary Ann Smyth
---
I am not a gourmet, an epicure. But on the other hand, I wouldn't call myself a gourmand either. The dictionary defines a gourmand as a glutton. I prefer Webster's second definition: a lover of good food. I've just returned from a trip with my Significant Other (SO) to Switzerland; land of the most GORGEOUS scenery I have ever seen. Rode a cog railway to Mount Rigi, and a gondola part of the way back down. Me! Who's afraid of heights. No. Make that terrified! And I loved it!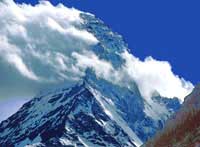 We tried to get to the base of the Matterhorn from Zermatt, but were derailed by bad weather. Couldn't even see the famous peak, but did get part way up. What dazzling scenery. Later on in the trip, while leaving Zermatt, we were able to get a clear view. Were you to climb the Matterhorn, I'm sure you could see right into heaven. It stood out by itself, sparkling in the fresh sunlight of early morning - a humbling sight, so grand and majestic.

I planned to write about cuisine in Switzerland from the viewpoint of a lover of food - not the fancy rave reviews of five star restaurants, but of the everyday bistros, tavernas and lakeside cafes. But I found it hard to separate our surroundings from the wonderful fare we savored, so will tell you about both food and place. We ate everything in sight and gained not an ounce. Everyone walks in Switzerland, from tiny babes to dear old ladies hobbling along on canes, their osteoporotic backs bent in a hoop - I'm sure we walked at least the equivalent of the Matterhorn climb.

Our first night was in Lucerne, where we arrived from Zurich airport via the extremely efficient Swiss railway system. We deplaned, got right on the train and reached Lucerne in 45 minutes! Couldn't have been easier and a real bonus for weary travelers. SO and I ventured to the river in Lucerne, where we dined in an outdoor restaurant overlooking the water. Marvelous historic buildings across an ancient covered wooden bridge towered benignly as the candles on our table were lit. To complete a spectacular setting, a wandering minstrel set up near us and sang lovely songs in an operatic baritone. Romantic? I ask you.

All set for a meal featuring traditional Swiss food, we instead opted for good old fish and chips. Tired from our flight, we wanted comfort food. So, with a mental apology to the balladeer, we dug into the Swiss version of an old favorite. Not to put the Brits down. Really, guys. I love your fish and chips. But these were extraordinary. A very light batter. A wonderfully flavored white fish. Two different sauces - a tartar and another creamy, lightly dilled version. The fries (as they proved to be all over Switzerland) were cut thin and deliciously crispy. Battered, fried cheese rings were a welcome introduction to local cheeses. A few tender breaded shrimp completed the delicious combination, and a light, Italian white wine was wedded to the meal.


Walking off our dinner in the Old Town of Lucerne, we stumbled on a Swiss Army band concert in a small square. As we listened, I noticed a tiny girl child keeping time with the music. Her curls bounced as she marched to John Phillips Sousa. With tiny sneakered feet moving on the cobbles in perfect time to dance tunes and body movements in harmony with the music, she was a joy to behold.

Breakfast was part of our hotel packages, and I was prepared for the usual tease of a continental breakfast. Not! We were offered dry cereals with selections of yogurts and fruits to top them. Baskets of small crisp rolls, both white and wheat. And the freshest of croissants. Big pots of jams. A bowl of fresh fruit cut into tiny pieces. And what was quickly to become my favorite - a cheese tray with brie and fontina cheeses. Divine. Pig heaven. Lots of fresh orange juice later, we set out on a walking tour of Lucerne. The Tourist Office set us on the right course to reach the top of Mount Rigi. A forty-five minute boat ride on lovely Lake Lucerne and a trip on a cog railway would see us to the summit. But first we had lunch at the railway station cafeteria - clean as a whistle and bright, though in the basement. I enjoyed a small, extremely fresh baguette stuffed with cheese, while SO had tuna on whole wheat bread.

That evening, we enjoyed another restaurant by the river, inside this time because of a light rain. I had been anxious to try Raclette. It is simply a ramekin of a melted cheese produced just for this dish, which suited me just fine. I could exist on cheese, I think. It was served with plain boiled potatoes, sliced lengthwise in quarters and lightly salted. Their flavor made me wonder if they were a different breed than any of the potatoes I use in N. America. Peas and carrots, dark bread and a glass of German wine (I try to be fair) and I was again a very happy camper indeed.

We walked back to the hotel in a heavy rain along dark streets, braving the speeding traffic, and not sure if we were going in the right direction, because street signs are scarce in Switzerland (either that or they take them in at night). Nevertheless I loved every minute of it. I am sure SO thought I had finally gone over the edge, but to me the night had a Casablanca feel to it. To celebrate our safe return, we paused for dessert in the hotel restaurant, where vanilla ice cream arrived with what seemed like a whole pint of raspberries heated in brandy and poured over it. Wow! Talk about a taste thrill.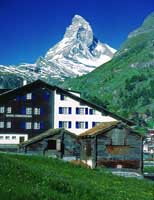 The next morning, after a rerun of that enchanting breakfast, we caught the train to Zermatt. These trains run on a cushion of air. They're almost soundless, and very punctual. Arriving at lunchtime, we ate in an open-air restaurant in the town square. No gasoline engines are permitted in Zermatt, so it was pleasant to sit on the chalet balcony and watch the ski world go by (skiing is possible in Zermatt year round). We were next to a couple dressed for hiking, complete with back packs, walking sticks, boots and dog. Dogs seem to be welcome almost everywhere in Switzerland, even in restaurants - and are charged half fare on public transportation! I had an omelet; light, airy, buttery tasting and stuffed with cheese. Fries also, again sliced thin and crispy. And a glass of iced tea (didn't expect to find that in Switzerland).

We continued on a ten-minute train ride to Tasch, a charming country village where we found, parked, all the cars that are not permitted into Zermatt. The trains from Tasch to Zermatt are equipped with cars specifically designed for skiers with all their gear. There are racks for skis and open spaces with straps to secure caddies (carts) that are provided at the station and then left at Zermatt station to be used by returning skiers. It's well thought out - even room for a dog or two. A note on the Swiss rail system. It is as close to as perfect as it can get. Clean, clean, clean with squeaky clean windows. On time. Efficient. Excellent help at information windows. A schedule for the next day was printed out for us with a smile and a wish for a pleasant journey. A Swiss Rail Pass is the most economical way to go. It not only is good on the trains for unlimited use, but also honored by most bus systems, and even by the water taxis and lake steamers.

That night for dinner, I decided to try ostrich. SO tried to convince me it would arrive adorned with its own feathers. Instead a luscious Biarnaise sauce accompanied small slices of pinkish meat. I love Biarnaise and would consider bathing in it if the opportunity ever arose. The ostrich reminded me of a very good piece of beef (which, as a vegetarian, I haven't ingested in over twelve years). SO decided on pork collops in a fragrant sauce. Spaetzel, a kind of free form small noodle, accompanied the ostrich - I suspect it was browned in a frying pan and it had a wonderful cheesy flavor. Along with - guess what? Peas and carrots. A glass (or was it two?) of French red, this time.

Breakfast must be an agreed upon universal menu in Switzerland. More of the same. Scrambled or fried eggs were offered. But with all those lovely breads and jams and cheeses, who would order what they can fix at home? Not me. We rode the cog railway that day to the top of Gornorgort. A cog railroad (SO informed me) has a narrower space between the tracks than a regular railroad - hence the term narrow gauge - with a cog between the wheels that catches in ratchets like pieces in the road bed. Intriguing, and the only way the trains can climb steep grades - believe me, steep grades are the norm in Switzerland. Heavy snow swirled around us and lent a magical ambience to the summit. The reduced visibility but was compensated for by our feast. Since Switzerland speaks three languages - French, German and Italian (Romanish is also spoken in the St. Moritz area) - we were not surprised to find plenty of Italian food.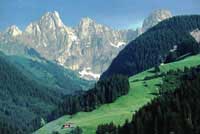 SO and I went through a cafeteria line, while the chef stood on the other side and touted his cooking. He said the spaghetti would be the best we had ever eaten, and it almost was. Chef made sure we sprinkled our pasta with Parmesan cheese. While it was excellent, I prefer freshly grated locatelli. A marinara sauce accompanied the most flavorful pasta I've had in a long time (chef daughter Joanna makes the best pasta around, but this came close). A lightly breaded, very tender chicken cutlet, a piece of crusty bread and a glass of French red wine, left me satiated.

At the hotel for dinner, I tried the cheese fondue, which was to die for. Delicately flavored with wine and herbs, it was a real treat. The vegetable plate that came with it was outstanding. It was served in a large ramekin. The rosti (home fries) base, are not at all like my home fries. Put through a sieve, the potatoes are squeezed to remove moisture, then fried to form a crust. This crust supported a mixture of vegetables that was then coated with cheese. Superb. I ate till I thought I would burst. SO had decided on lamb tenders in a rich sauce with a large helping of spaetzel. A French white rounded off that meal.

The next morning, we got up early for the 8:10 train to Zermatt to catch the Glacier Express, a spectacular train that takes eight hours to run from Zermatt to St. Moritz, through the most breathtaking scenery you could ever imagine. The cars have large windows, both beside and above, so you don't miss a vista. The train passed over 291 bridges and several viaducts. It was always either climbing or descending, so the countryside and mountains changed continually. We were often above the tree line with views of snow covered peaks and bare rock climbing to the heavens. We then would head down to small villages surrounded by the most soft looking land I have ever seen. Church spires rose in the crisp air in each one, and every so often ruins of a castle could be glimpsed. The grass seemed like velvet in rolling pastures. We passed many vineyards, terraced and covered with bright green netting to save the grapes from wildlife.

The villages were just as I had wanted them to be, while afraid that the Swiss might have modernized their architecture. They looked as though Heidi might step from any one of the houses to wave at us. We had lunch on the Express, in an old fashioned car replete with lovely woodwork and candles. It started with a lovely salad of extremely fresh field greens with Buffalo mozzarella, tiny tomatoes and a light creamy dressing. Exquisite. Then on to a vegetable cutlet topped with a delicate dill sauce, spaetzel (remember the tiny noodles?) and, you got it, peas and carrots. We watched the bustling waiter hold a tray of liqueur glasses and pour a stream of liqueur into one from a constantly raised height 'til his elbow was above his shoulder. And he spilled not a drop! On a fast moving train no less. Apple tart completed this repast, from which we staggered back to our seats, struggling to stay awake so we wouldn t miss anything. This train trip was the highlight of a trip filled with highlights.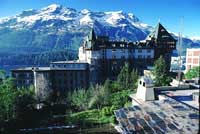 That evening in St. Moritz, we opted for pizza, topped with broccoli, mushrooms and gorgonzola cheese along with provolone. Gorgonzola is my favorite bleu cheese. To my palate it has a smooth flavor and simply melts on the tongue. Of course, not to change a pattern, a glass of red wine complemented the vittles. The next morning, we decided to go up another mountain. The bus passed through some lovely flat landscapes, but then in front of me towered the mountain, its gondola waiting like some predatory animal. I did pretty well on this first ride till I realized that another gondola awaited to take us even further. That's where I determined I was as high as I wanted to go that day. So, while SO continued, I cowered in the warm sunlight.

We had superbfontina cheese sandwiches for lunch. Thick slabs of fontina on two thicker slabs of French bread, with just a scraping of fresh butter. This gave me courage for the descent. From the windows of the gondola, we could see and hear cows grazing in the fields below. Each movement set off a bell hanging around each neck. Very melodious, but I think if I were a cow in Switzerland, I would trample anyone who tried to tie a bell around my neck. Not a movement can be made without clanging - it would decidedly drive me around the bend.

That night we went traditional in a small local restaurant, where the waitress kindly described each dish for us. Our appetizer was grated cooked chicken and shrimp, wrapped in spinach to form fingers, with a light cheesy sauce. Yumm. I had rabbit filet with the most delicate broad noodles I have ever tasted. The brussel sprouts didn't send me into fits of rapture, but the tiny baked pear was lovely. SO enjoyed wild venison whose sauce had been cooked for hours and turned thick and rich, along with spaetzel and green beans. We finished up with a crepe served warm, stuffed with wild berries and topped with whipped cream. The distance back to the hotel wasn't anywhere near long enough to walk off that meal.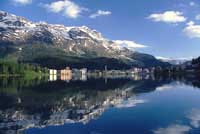 A few words about St. Moritz, the playground of the rich and famous. I expected to find glitz and crass commercialism surrounding the lovely lake. We walked all over St. Moritz and found nothing that smacked of blatant moneymaking. We visited a museum built in the fashion of a small castle. It featured rooms taken from old houses in the surrounding valley. We couldn't understand the legends, which were naturally all in German, but were enthralled with the authentic trappings of the fifteenth, sixteenth and seventeenth centuries.

For our last dinner in Switzerland, we chose Italian. We shared a very good bruschetta; then on to lasagna for me and spaghetti for SO. My lasagna noodles came interspersed with eggplant, broccoli, and a wonderful light tomato sauce, all held together with cheese, wonderful cheese. We ended our eating ventures in Switzerland with a light tiramisu for me and a crhme caramel for SO. Breakfast before we left for the airport was again a happy rerun (we still weren't tired of the same old, same old).

If it seems as though we ate our way through Switzerland, I guess that's because it's what we did. But we enjoyed many other delights of that most lovely of lands. The country is as clean as anyone could possibly make it. The people are so nice and helpful. Even when we couldn't share a language, there was no barrier to understanding each other.

Switzerland left me with an impression of cascading flowers. Every balcony on Swiss houses and hotels was outlined with a variety of blooms, but predominately creeping geraniums. Colors that defy description adorn public buildings. Lovingly tended gardens edge parks and streets. Almost every business has window boxes filled to overflowing with plants. Indeed, if there weren't so many other places in the world to see, I would already be planning a return trip.
---
Notes: The author retains all rights to this article, except for its photos, which are ©Michael A. Stecker.
See more of Michael Stecker's lovely Swiss photos;
as well as his fascinating People, Places and Astronomical Objects.
---
Note: Opinions expressed in reviews and articles on this site are those of the author(s) and not necessarily those of BookLoons.
---