Turkey, Bear & Banner Elk
By Mary Ann Smyth
---
As I barreled down the highway, the rolling hills to my left kept pace with me, looking as though our Creator couldn't get them quite right but, by darn, he just kept trying. Blanketed in soft green, they were dotted here and there with sheep, cows and the occasional horse. I tried to remember the words to These Are My Mountains, a song that comes to mind when I travel Route 81 South to visit Barbara and Dave, friends who live in the northwestern mountains of North Carolina. Good thing I was alone as my singing voice would curdle milk.



Trees quilted the slopes of the distant Appalachian chain in fall colors, muted like an antique tapestry, hues softened by the passage of time. The sun shone and all was right with my world. Five hundred and fifty miles, three books on tape, and nine and a half-hours later, I arrived at a Sugar Mountain wooded lot, where a flock of twenty-two wild turkeys trolled for tidbits. How's that for a welcome? Bears periodically wipe out Barbara and Dave's bird feeders and a panther once strolled down their drive in broad daylight! But I have yet to see these mountain neighbors; the turkeys would have to do for the moment.

Jan Karon popularized the town of Blowing Rock with her stories of Father Tim and the fictional town of Mitford. Barbara and I visited Blowing Rock the next day via Shull's Mill Road - not for the queasy. We climbed at a steady pitch, negotiating twisting curves and bends, with a deep valley to the left of the narrow road. Panic sets in each time I navigate this road, but I swallow hard and brave it through; worth it for the spectacular views.

Lunch in Blowing Rock at the Storie Street Grille was Smoked Turkey with Brie and Pepperocini piled on Crusty French Bread - delish-cious. The sweetened iced tea had that good Southern flavor. Directly across the main street from the Grille is Tijuana Fats which serves great Chili Relenos and Margaritas. Stopped on the way back for a photo op of Grandfather Mountain - so named because one of the ridges resembles the profile of an old man's face while he's lying down.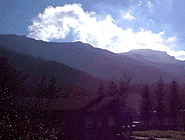 That night we drove off Sugar Mountain to the village of Banner Elk (a magnificent statue of an elk can be seen in front of the grammar school) in the valley between Sugar and Beech Mountains. Nighttime lights twinkled all over both hillsides, but the ski slopes were dark. We were headed to my favoritest restaurant in an area peppered with good eating - Louisiana Purchase. The dicor is reminiscent of New Orleans with a band painted on the walls of the steps from the upper level, the musicians forever descending to spread their cheer in the high ceilinged dining room.

And, boy, what a meal! Started with a divine Shrimp Bisque with just a hint of cream swirled though, and a strong but at the same time delicate taste. Warm rolls with a few chili peppers tucked in the dough kept us from eating the tablecloth while awaiting our entries. I had half a medium sized eggplant filled with roasted vegetables and topped with cheese . My friends dined on Mountain Trout and Blackened Mahi Mahi. Sipped a Sirah with our meals, shared a Bananas Foster, and, stuffed to the gills, just managed to stagger to our car for the trip back up the mountain and a night cap of Mocha Caramel Liqueur.

The next morning, a bear had knocked over a very sturdy bird feeder. And I missed him! Dave usually calls the small zoo on Grandfather Mountain to see when the bears have hibernated; then he puts out that feeder right outside the kitchen window. He has a picture of a bear looking in that window at him (missed that too). That evening my friends served one of my favorites of their gourmet meals; a great leftover dish - sliced turkey on wheat toast, covered with big slabs of tomato, then a scrumptious cheese sauce, and topped with bacon (turkey bacon for me). It's then baked and served with cranberry sauce. Not a calorie or gram of fat!! Yeah, sure. Also had a spectacular sandwich for lunch one day. Peanut butter, mayo and sliced onion! What do you mean, yuck? Don't knock it 'til you ve tried it. Trust me.


On a gray, rainy day, we shopped at the Wilcox Emporium Warehouse in Boone, hidden on a back street. Really a cool place. 230 shops under one roof! Everything from home dicor and gifts to clothes, antiques, art, collectibles and food. Bought a bottle of Old Fart Sirah Wine for Significant Other. (Note - it was a good wine.) Emporiums seem to be springing up all over that area, but the Wilcox one has been the forerunner.

On the way back to Sugar Mountain, we saw huge trucks readying to haul Christmas Trees - big business down here, where anyone with a plot of land plants Frazer Firs. They grow beautifully in the western mountains of North Carolina. I take home wreaths each year that last for months, and smell divine. People come from all over for these trees. Lots of Tennessee license plates with two or two trees tied to the roofs of their cars. Saw Grandfather again - this time completely wreathed in mist. It was impossible to see other peaks, but Grandfather seemed to nod to me, saying, 'I was dozing the other day when you stopped by. Welcome. It's good to see you again, kid.' He never lets me down.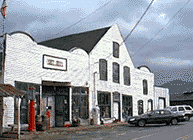 'Where shall I send you to find the soul of the South? Mast General Store,' wrote Charles Kuralt in a 1986 column. How right he was. I drove over the back road from Banner Elk to Valle Crucis where the store is located. Not for the faint of heart, the road's extremely interesting twists leave no time to hyperventilate. On a bright day, the sun spotlights the valleys, making them glow with welcome. On a foggy day, enchantment fills the air as trees and housetops try to rise above the mist.

Mast General Store began its life in 1883 in Valle Crucis (Latin for Valley of the Cross), and has been there ever since. I don't think a thing has changed in the interim except that merchandise has modernized somewhat. Blue speckled tin ware can still be found here along with old time rocking chairs (the serious kind); cast iron skillets; English made Clark shoes along with heavy duty socks and union suits. Down the road a small piece is the annex. Don't go in the candy store if you lack will power. I always walk out clutching a bag of one of every kind of penny candy available. There's a neat little cafi whose window looks out on a winding creek sluggishly making its way through the valley floor.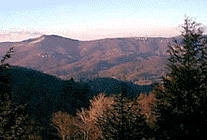 Didn't get up to Beech Mountain (billed Eastern America's Highest Town) and so missed reacquainting myself with Fred's Mercantile right up there at its peak (I love to watch Beech Mountain through my friends' floor to ceiling windows. Clouds seem to play hide and seek there and the sun throws marvelous shadows, ever changing like the ocean.)

Had occasion to go to Winston-Salem, a beautiful ride with ambling mountain streams that looked clear and cold, and patches of baby Frazer Firs everywhere. But the climax of the day was the ride home into the setting sun, when we were treated to nature's best. What a sky. Blue as blue could be over the Blue Ridge Mountains, then slowly turning to gold and silver and then rose; all the colors meshing as though the sky knew we wouldn't be back and wanted us to see it all. I'm usually a chatterer, but this shut me up. What a sight!



Attended services at a charming church built of native stone. The pulpit is also of stone. It nestles next to Leas MacRae College and the church's choir has the benefit of wonderful voices from the school as well as professionally trained voices. We joined friends for dinner at the Banner Elk Grille. The place is upscale, beautifully decorated, with a striking gazebo in the center of the dining room. Most of the decorations are for sale, new as well as antique. Nothing antique about the food. We five shared a Mile High Chocolate Cake, seven layers that, on its side, covered a dinner plate. Special Additions is next door to the Grille and has everything you would ever want to dress up your home. I bought a cookbook there - American Classics - that set the tone of the shop. New, innovative, imaginative and downright fun to browse through.

The day I had scheduled to leave dawned rainy with a touch of mist for good measure. I like to leave at the crack of dawn so I can get home before dark. No, not scared of the bogey man. Can't see at night to drive safely. I left Sugar Mountain with the usual regrets - hating to say good-bye, but with ninety-six cents of winnings in my pocket. Howaboutthat? Big money is at stake in our regular Rummicub games; one penny a point! The rain pursued me the whole way home. Never so glad to see the old homestead, which I reached before the dreaded dark, tired, dragging, and carrying memories of a perfect visit with dear friends. Aren't I lucky?
---
Notes: The author retains all rights to this article.
---
Note: Opinions expressed in reviews and articles on this site are those of the author(s) and not necessarily those of BookLoons.
---