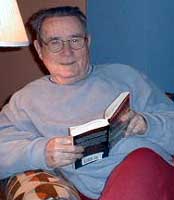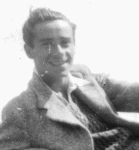 Editorial October 2003
In Memoriam
By Hilary Williamson
---
I remember when I was a child
In snatches through the mist:
So the globe-circling mariner
Strains back for one last glimpse
Of the dim home lights, soon lost
As his sails fill with the venturing wind.

from I Remember by Wesley Williamson (1921-2003)


My father, Wesley Williamson, died on October 1st, surrounded by family, and with a last few books unread at his bedside. Born in Northern Ireland, he was a civil engineer, who built bridges and roads in places as far flung as Malaya and Nigeria in the 50s and 60s. After he moved to Canada, Wesley was responsible for one of the first garbage recycling plants in N. America (prompting his family to sing My Old Man's A Dustman often), in Toronto in the 70s. He enjoyed spending summer week-ends at a cottage in the Haliburton Highlands, and especially loved to listen to the loon calls from the lake. He was in many ways like Maurice Walsh's Quiet Man, with a deep strength and integrity, and with a twinkle never far from his eye.

Though an engineer by profession, Wesley was also a writer, a poet, and a self-styled voracious and indiscriminate reader all the years of his life. Some of his favorite books were James Branch Cabell's Jurgen, Rafael Sabatini's Bellarion, Ernest Bramah's Wallet of Kai Lung, Georgette Heyer's An Infamous Army, Cecelia Holland's Firedrake, and Tolkien's Lord of the Rings trilogy. He also enjoyed anything by Ursula K. Le Guin, Robert Tanenbaum, Guy Gavriel Kay, Terry Pratchett, and David Weber. He was an enthusiastic fan of Robert Jordan's Wheel of Time and Elizabeth Moon's Deed of Paksennarion series, and often re-read Steven Gould's Helm. Wesley was a prolific BookLoons contributor, writing 185 book reviews.

Dad (with apologies for muddling metaphors and verses), may this new road always rise to meet you - and may the venturing wind always fill your sails.
---
Note: Opinions expressed in reviews and articles on this site are those of the author(s) and not necessarily those of BookLoons.
---