Editorial December 2000
More Millennial Merriment?
By Hilary Williamson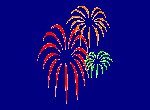 For auld lang syne, my dear,
For auld lang syne,
We'll tak a cup o'kindness yet
For auld lang syn

---
It's time to start the Millennial Countdown again. And if that feels like dij` vu to you, well it is. According to the Greenwich Observatory and the Philadelphia Enquirer, the new millennium actually begins on January 1, 2001. So we were mistaken last year and just have to start partying all over again ... but it won't be quite the same with repetition.

If you have a yen for something new, then how about buying one out of a couple of hundred thousand tickets to participate in Edinburgh's Hogmanay, a grand outdoors party where you can join hands and sing Auld Lang Syne with descendants of Rabbie Burns. Or just stay home and plan for revelry in your own neighborhood.

However you decide to spend the end of this year, whether or not you descend into another festive millennial whirl, I wish you a quiet spot with a large stack of unread books and enough time to enjoy them (my personal utopia). If your stack needs additions or you're in search of literary gifts, have a look through our shelves and reviews and see if anything catches your fancy.

BookLoons reviewers have been working hard and I would like to thank them all for helping to get the site off the ground ... G. Hall, Anise Hollingshead, Sally Selvaduraiand my father, Wesley Williamson ... and also thanks in advance to Maggie, Vurlee, Jon, Rhonda, Christine and Theresa for their offers of assistance. I owe a great deal to my husband Serge Fournier for his technical help with site production.

As a fitting ending to this millennial year and a beginning to the new millennium, here are verses from one of my favorite poets, James Elroy Flecker(1884-1915). The message that he penned To a Poet a Thousand Years Hence in this extract could have come from any of the bards of the past millennium who have given us so much reading pleasure ...



O friend unseen, unborn, unknown,
Student of our sweet English tongue,
Read out my words at night, alone :
I was a poet, I was young.
Since I can never see your face,
And never shake you by the hand,
I send my soul through time and space
To greet you. You will understand.




Merry Millennium Once More!
---
Note: Opinions expressed in reviews and articles on this site are those of the author(s) and not necessarily those of BookLoons.
---