Between the Lines:
It's a Mystery Why You Should Read These
(March 2004) By David Pitt
---
Quick! Look behind you. There's a bunch of writers sneaking up with mysteries and thrillers and creepy things.

The Last Juror (Doubleday) is, hands down, the best John Grisham novel I've ever read. It is very well written, thoughtful, and engaging, with a narrator who makes you want to drink down every word he says and a cast of characters so real that they threaten to walk right off the page.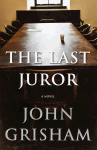 The novel is set in the seventies, in Ford County, Mississippi. In 1970 Willie Traynor, a young college dropout, buys a failed newspaper. It's a fortuitous moment: a murder has just been committed, and Willie plays it for all it's worth, increasing the paper's circulation with a series of flashy, mostly responsible articles about the case. Then, just before the end of the trial, the killer tells the jury that, if they convict him, he'll 'get every damned one of you.' Do they? Does he? Don't ask me to give anything away.

Ed McBain's The Frumious Bandersnatch (Simon & Schuster) is another police procedural starring the detectives of the 87th Precinct. McBain's been writing these things since 1956, if you can believe it, and you'd really think the series would have started to get stale by now, but it hasn't, not even the teensiest bit. This time out, Steve Carella (the nominal star of the series) is looking into the kidnapping of an up-and-coming young musician, but does it really matter what the novel's about?

The thing about the 87th Precinct stories is, the plots aren't the main draw. It's the people we keep tuning in to watch; it's the deductive process ('based on established investigatory technique') we keep coming back for. Once upon a time, lots of writers wrote police procedurals -- you know, those stories in which you get to follow the cops as they interview witnesses, follow leads, eliminate suspects. (Television's Law & Order is a police procedural. So was Columbo.) Now, hardly anybody writes them, and nobody does them as well as McBain. I don't know if writing a series of novels featuring a recurring cast of characters for nearly fifty years qualifies as some sort of record, but I'll tell you this: the fact that the series has not declined in quality, not one iota, not the teensiest bit, in almost half a century is downright mind-boggling.

The toughest thing about writing a series, I imagine, is keeping it fresh. The best way to do that is to shake things up a little from time to time. In Blow Fly (Putnam), the latest Kay Scarpetta novel, Patricia Cornwell shakes things up. Scarpetta, the forensic pathologist, is out of Richmond, out of the medical examiner's office, and out of the past (tense, that is).

Okay, the previous novel, The Last Precinct, was also written in the present tense. (It also sets up Blow Fly: at the end of the novel, we saw Scarpetta leave her post as the Richmond, Virginia, medical examiner.) But this time the present-tense gimmick actually works. This story, in which Scarpetta's nemesis -- the deliciously evil Jean-Baptiste Chandonne, who has caused much destruction in her life -- has yet another surprise for her, is remarkably suspenseful. The present tense gives us the illusion that everything is happening now, right this second, and not at some unspecified time in the past. The present tense takes away our feeling of safety, our comfortable knowledge that everything worked out in the end, because the story's still happening as we're reading it.

Oh, and Cornwell seems once again, finally, to be having lots of fun playing with all her characters. The Scarpetta series has, in recent instalments, grown progressively more stale. Shakin' things up has helped immeasurably. For fans of the series who've been getting a little impatient with it, Blow Fly's a real treat.

Here's a real treat for fans of Jeffrey Deaver, the author of the Lincoln Rhyme series: Twisted (Simon & Schuster), his first collection of short stories. The title's a bit of a pun: not only are these sixteen stories twisted -- in the sense of morally corrupt -- they also feature some damnably clever plot twists.

Deaver writes about scam artists, lovers, murderers, and other assorted ne'er-do-wells, and he does it with such skill that we never, not once, have the slightest clue what's actually going on in the stories. I've said a bunch of times that Deaver is a genius when it comes to plot twists, and this excellent collection displays his talent in all its glory.

Speaking of twisted stories, you have to check out The Bone Parade (Hyperion), a very disturbing novel by Mark Nykanen. It's all about this sculptor whose obsession for creating lifelike works of art leads him to take his work a little too seriously, if you catch my drift.


In Ashley Stassler, the talented artist who doesn't know where to draw the line, Nykanen has given us one of the great villains, a brilliantly psychotic creation who grabs our attention and won't let go. The novel's been compared by some critics to Thomas Harris's novels featuring Hannibal Lecter, and the comparison is apt: The Bone Parade has a feeling of creeping terror that, by about halfway through the novel, makes you feel physically uncomfortable. You don't want to miss this one, believe me.

Mr. Paradise (Wm. Morrow) is, oddly enough, the first crime novel set in Detroit that Elmore Leonard has written in a couple of decades. I say oddly enough because, as I'm sure you know, Leonard is so closely associated with the Michigan city that it's hard to imagine one without the other.

Anyway, the novel introduces us to another of Leonard's colorful, hard-to-forget characters, Tony Paradiso, an octogenarian retired attorney who likes to watch old football games on video while his hired girlfriend, dressed up in a cheerleader costume, um, cavorts nearby. As if that weren't weird enough, there's also -- you know what, I think I'll stop here. Part of the fun of reading Elmore Leonard is not knowing what the heck his characters will do next.

In The Zero Game (Warner Books), Brad Meltzer plays a few tricks on us readers. I can't talk about those, but I can tell you about the premise, which is this: on Washington's Capitol Hill, select individuals play a mysterious game few people know about. It's harmless, or at least it was, until someone turns up dead, and a congressional aide puts his own life on the line to find out what's going on.

I quite liked this novel. Meltzer, who's written a few solid thrillers, is trying something a little new, and he mostly succeeds. (The opening of the novel contains one giant surprise.) There are a few moments of sloppiness, though. When the novel opens, two guys are talking, and one of them is wearing a lapel pin representing the Lorax, a character in a Dr. Seuss story. One of the guys says something that the other guy thinks isn't a 'very Lorax response,' so they ask a third guy what he thinks. He says: 'Never heard of the Lorax. Always been a Horton Hears a Who guy myself.'



Why is this a problem? Because the first two guys never mentioned Dr. Seuss in their dialogue. The third guy's never heard of the Lorax, so how'd he know they were talking about Dr. Seuss? The first two guys know, the story's narrator knows, we know, but the third guy shouldn't know. That's a violation of some sort of storytelling rule, I suspect. (Maybe I'm wrong. Read the book, and let me know if I missed something. It'd be nice to know someone's out there.)

It might seem like I'm being nitpicky, but this happens on page two, before the novel's even had a chance to get going, and it threw me right out of the story. It took me a long time to get back in. Iím glad I did, though. Despite these little moments (and there are a handful of them), this is a first-rate thriller.

While we're here in Washington, let's take a peek at The First 48 (Warner Books), the new one from Tim Green. Jane Redmon is a Washington Post reporter working on an exposť of a well-known senator, a man who -- not entirely by coincidence -- is also responsible for ruining her father's life and reputation, many years ago. But before she can file her story, she disappears, and it's up to her father, a retired cop, to find her.

But does Tom Redmon have a chance? If a missing person isn't found within the first forty-eight hours, the odds are she'll never be found. And, in this exhilarating novel, the odds are not exactly stacked in our hero's favor.

Joseph Finder's Paranoia (St. Martinís Press) opens with Adam Cassidy, a not-particularly-ambitious, low-level employee of a high-tech company, getting caught using company money to throw a snazzy party for another employee who's retiring. Adam thinks he's going to get fired ... what he actually gets is much, much worse.

Instead of firing him, the company's CEO forces Adam to infiltrate his competitor's company -- trains him to be an industrial spy and sends him off to bring the competition to its knees. What follows is one of those fun stories where the hero (and, by extension, the reader) doesn't know who to trust, doesn't know what to believe, and doesn't know how to extricate himself from the nasty predicament he's stuck in. Finder's an excellent storyteller, and if somebody doesn't make a movie out of this splendid thriller then Hollywood's just not on the ball.



The Kills (Scribner) is the new Alex Cooper legal thriller by Linda Fairstein, who has parlayed a career as an prosecutor into an equally successful career as a novelist. In her latest adventure, Cooper is prosecuting an accused rapist, but it's a tough job, what with the disappearance of one of her key witnesses. Meanwhile, an elderly woman is murdered, apparently by someone who was looking for something in her apartment. Are the two cases connected?

Well, obviously they are, or I wouldn't have asked. But how are they connected, and how long does it take Cooper, our resourceful and imaginative hero, to figure it out? The Kills is one of those novels where you sort of know what's going to happen, but you don't know exactly how, or why, or when.

The Codex (Forge) is another adventure novel by Douglas Preston. You might know him as half of the writing team -- the other half if Lincoln Child -- who produced such best sellers as Relic or, more recently, The Cabinet of Curiosities. Together they're very good; separately they're, well, hit and miss. (Child's last solo novel read like a pale Michael Crichton imitation.)

Fortunately, The Codex is one of Preston's hits. It's the story of three men who are searching for their father. Why are they searching for him? Because the rich, ailing old man (he's dying of cancer) has taken himself and his vast, half-billion-dollar fortune off to some remote part of the world and sealed himself up in a tomb. If the kids wants to inherit, they have to find dear old dad. It's a nifty little premise, and Preston plays it out cleverly. Heís having a lot of fun, and so are we.

---
Note: Opinions expressed in reviews and articles on this site are those of the author(s) and not necessarily those of BookLoons.
---