Between the Lines: Aw, C'mon ... Be a Sport
(February 2002, addition August 2002)
By David Pitt
---

I don't know about you, but where I am it's cold and yucky outside. Hard to get out and get some exercise. Easier to read about it.

Let's read, for instance, about a young man named Eldrick Woods, better known as 'Tiger.' You might have heard of him: he golfs a little. The Chosen One: Tiger Woods and the Dilemma of Greatness (Simon & Schuster), by sports journalist David Owen, is a small book - it's not much bigger than a paperback novel - but an interesting one.

Tiger is, in pretty much every way you can conceive, the best golfer: his drives fly farther than other people's; he finds solutions to problems that his competitors often can't solve; his putts, when they work, are things of beauty. But there have been other great golfers, and, possibly quite soon, someone else will come along who's even better than Woods. What makes Tiger special, then?

Owen looks at Woods from two angles: as a sports superstar, and as a cultural icon. Woods is, whether he likes it or not, an inspiration, even an idol, to a whole lot of people. But here's what's different about him, according to Owen: 'Many very famous people become very famous because, for some compelling and probably unwholesome reason, they crave the approval of the rest of us.'

Not Woods, though: 'He can be a dazzling and telegenic performer ... but he conveys the impression that he would play every bit as hard if the cameras and the microphones and the galleries all went away...unlike most celebrities, he shows no sign of needing or desiring or depending on help from any of us.' It is, Owen suggests, this independence that we find so inspiring. He is not a great player because we need him to be, or because he needs our approval; he is simply a great player

Moving on, here's Walter Gretzky: On Family, Hockey and Healing (Random House), by Walter Gretzky, whose son is apparently a pretty good hockey player. Everybody calls Wayne Gretzky 'the Great One,' but he's just a regular guy with a special talent. At least that's the impression we get from his dad's book - which is, I ought to point out, not specifically a book about Wayne, but an autobiography.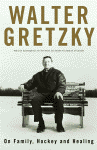 This is Walter's story: a Canadian farm boy who got married, raised a family on a telephone repairman's salary (which wasn't a whole lot), then was shoved into the spotlight when his little boy, Wayne, made the big time. 'I must have smoked a lot of cigarettes and coated my poor old stomach with a lot of milk around the time when Wayne was getting ready to joint the pro leagues,' he writes, a dad worrying about his boy. Later, Walter writes movingly about his near-fatal stroke a decade ago; when he talks about losing his memories, about not being able to remember most of his son's hockey career, it's ... well, there won't be a dry eye in the house.

The Owen and Gretzky books are not 'sports books' in the usual sense of the word: They go beyond their subjects: they talk about sports, but they also talk about other things. A more typical sports book is Drive: How Vince Carter Conquered the NBA (Doubleday), by Toronto Star sports columnist Chris Young. He's been keeping an eye on the Toronto Raptors star since Carter joined the team in 1999; the book chronicles his rise to superstardom, takes us into the back rooms and through the closed doors to see the inner workings of professional basketball.

Unlike Owen, Young does not go to a whole lot of trouble to put Carter in a global context - you won't read here how Carter's rise to stardom has changed the world. And, unlike Gretzky's charming memoir, you won't find anecdotes about Carter as a child, or what he was like growing up. But if you want the nuts and bolts of the NBA - contract negotiations, player
salaries, team rivalries, secret plots - then this is the book for you. Is professional basketball changing? Well, some say it's getting younger, that the players are not men, but big children. Some say skills are eroding, that there is getting to be too much emphasis on salaries and not enough on ability. Others say the game is just a little too nasty and cutthroat, these days. But, as Young demonstrates, it only takes one high-powered player, one guy who dominates the court, to make us remember what the game's all about.

Mike Lupica has been a sportswriter for nearly a quarter-century. His latest novel, Full Court Press (Putnam), is the very funny story of a scout for a bottom-ranked NBA team who recruits a player he believes will catapult the team into first place. Problem is, the player's a woman. Will the NBA accept a female player among its ranks? Can Eddie Holtz, our hero, convince his own team's players to give her a break long enough for her to show them how good she is?


Like Dan Jenkins's Semi-Tough, the novel lets us wander around inside the world of professional sports, lets us meet players and managers and coaches and whatnot. Lupica is a smooth storyteller, with a good ear for dialogue. (A player offers some coaching advice: 'You don't mind my sayin', Coach, I think maybe the way to attack them and whatnot is on the perimeter.') Lupica's years of experience as a sports journalist allow him to give his fictional story an air of realism: he knows what he's talking about, here. It's a lot of fun.

While we're on the subject of basketball, you might want to check our A Coach's Life: My 40 Years in College Basketball (Random House), written by Dean Smith with John Kilgo and Sally Jenkins. Smith, who spent nearly four decades as the coach of the University of North Carolina team, reminisces about the team's triumphs, tells us about some of the players who have passed through the school (like, for instance, Vince Carter) and describes the thing that, for him, is the most important thing in a basketball player: character. Responsibility, determination, self-discipline. The book should probably be read by every budding basketballer.

Budding baseballers might want to pick up Joe DiMaggio: The Hero's Life (Touchstone), by Pulitzer Prize-winning journalist Richard Ben Cramer. This gritty biography of the baseball legend tells us pretty much everything we want to know about the man, plus (apparently) a number of things DiMaggio would have preferred we didn't know. Cramer also joyously shatters some much-loved DiMaggio myths, like the one that says he was discovered by a scout while visiting a ballpark, or the story Joe liked to tell about how was injured getting out of a cab after a double-header (apparently Joe changed his life story, or bits of it, as he went along).



Some sports biographies idolize their subjects, turn them into shiny, glossy versions of the people they actually were. Others heap so much dirt on their subjects that it's difficult for us to see the person underneath all the filth. Cramer, on the other hand, just sticks to the facts: this is who DiMaggio was, this is what he did. Considering his subject, it's inevitable that he would touch on the growth of professional sports, but it's a delicate touch: this is biography, not analysis. It is, in fact, one of the very best sports biographies.

Finally, here's Sports Talk: A Journey Inside the World of Sports Talk Radio (Pocket Books), by television writer and talk radio fan Alan Eisenstock. There are, if you can believe it, about three hundred radio stations entirely devoted to sports. Over the past three decades, since Ed 'Superfan' Beiler hosted a show out of L.A. that mostly involved talking phone calls and yelling a lot, sports radio has evolved into something like an art form. Eisenstock charts the evolution with the enthusiasm of a fan, introducing us to the groundbreakers - The Stinkin' Genius, Hacksaw, Eddie Andelman, JT the Brick - and lovingly describing the sheer thrill of listening to these sports fans of the airwaves: 'For two straight hours the man called Superfan rants, rages, screams, shouts, whines, taunts, and wails ... On the radio, Superfan is the vocal equivalent of a train wreck. I know I should turn the dial, but I just can't take my ears off him.'

Inside the world of sports talk radio, just like in the world of professional sports, there are rivalries, partnerships, and a sense of competition that drives everyone to be as good as they can be. It's a fascinating world, and you simply must visit it.

Does the name Phil Jackson ring a bell? He's an NBA coach, in case no bells are ringing; he's won eight championships, two of them with the L.A. Lakers and six with the Chicago Bulls. More Than a Game (Fireside), by Jackson and Charley Rosen, is one of those inside-the-game books that, if you're a b-ball fan, you've just got to read. Like Young's book about Vince Carter, More Than a Game is jam-packed with information about players, coaches, and the business side of professional basketball. You'll also read how a Montana boy from a Pentecostal family wound up rubbing shoulders with some of the great athletes of this century. It's a fascinating tale.



I don't usually bother with movie tie-ins, but The Rookie (Warner Books), by Jim Morris and Joel Engel - originally published as The Oldest Rookie - is well worth a look. If you've seen the trailer for the Dennis Quaid movie, you already know this is the story of a high-school baseball coach who makes a deal with his team: if you guys win the championship, I'll try out for the big leagues. Which he did, at the grand old age of thirty-five. It's a remarkably thrilling story, made even more thrilling by one simple fact: it's all true. This ain't a novel, folks. It really happened. And you really must read it.

Oh, and speaking of Tiger Woods -- see above -- here's Chasing Tiger (Atria Books), by golf writer Curt Sampson. Unlike most Tiger books, this one doesn't spend quite so much time talking about Mr. Woods as a celebrity, as a cultural icon, and spends considerably more time talking about him as a golfer -- many writers seem to forget the guy does play golf, you know, when he's not being a cultural icon. Sampson concentrates here on the 2001 season: its tournaments, its importance to the history of professional golf, its importance to Tiger Woods, and -- let's not forget -- its importance to all the athletes who, for better or worse, were now playing in Woods' shadow. Tiger Woods really has changed the game of golf, there's no denying that, but it's refreshing to see a book about him that plays down the mega-celebrity side of the man.

Here's an unusual book: Lennox (Little, Brown), a coffee-table book about boxer Lennox Lewis with photographs by Blaise Hart and text and interviews by Melissa Matheson. If that last name sounds familiar, here's two letters and two words: E.T. the Extraterrestrial. Matheson is a screenwriter by trade; this is her first book. Photographer Hart, who hails from Jamaica, spent six years snapping pictures of his friend Lewis; combined with Matheson's sterling prose, they offer a vivid, intensely personal portrait of the three-time world heavyweight champion. The black-and-white photos seem much more real than colour pictures might have appeared -- this might not make sense, but it will, once you see the book -- and we leave the book with the feeling that we've actually met Lewis, met him and spent a little quality time with him.



From boxing to wrestling ... Sex, Lies, and Headlocks (Crown), by Shaun Assael and Mike Mooneyham, chronicles the birth and violent evolution of the World Wrestling Federation (WWF) and its creator, the entertaining Vince McMahon. The WWF's history is full of colourful personalities -- Hulk Hogan, Bruno Sammartino, Stone Cold Steve Austin, The Rock, and so on and so forth -- and the authors don't have to try very hard to make the book exciting, fast-paced, and (at least for wrestling fans) completely enjoyable. But, perhaps because they didn't have to try very hard to entertain us, Assael and Mooneyham don't seem to have tried very hard to make the book a particularly hard-hitting piece of sports journalism, either. It's fluff, without insight or oomph -- perfect for fans who're only looking for entertainment.

Mordecai Richler, the noted Canadian author and essayist, died in July 2001, shortly before On Snooker, his affectionate look at his favourite game, was published. I reviewed it, enthusiastically, for the Halifax (Nova Scotia) Herald, and it's worth noting that the book has now been released in a paperback edition (Vintage). Richer, who was a snooker fan and player for most of his life, immerses us totally in the pro-snooker culture: its players, its tournaments, its fans. For a snooker fan, it's pure joy.



Nearly a year after his death, Richler's final book, Dispatches from the Sporting Life (Knopf), was released. This collection of previously-published essays -- they were all selected by Richler for inclusion in the book -- demonstrates that he was a true sports fan: he loved the winners and the losers equally, loved sports for the sheer thrill of them. Doesn't matter whether he's writing about hockey, or fishing, or wrestling, or even African safari: he loved them all equally, passionately, with the unconditional love of a natural-born fan. Like much of Richler's writing (including, even, the splendid On Snooker), the prose ranges from brilliant to merely good, but it's impossible to overlook the intensity of Richler's passion. He catches you up in it, sets your pulse a-racin'.

Play ball.
---
Note: Opinions expressed in reviews and articles on this site are those of the author(s) and not necessarily those of BookLoons.
---