Significant Signings
By Josephine Anna Kaszuba Locke, September, 2004
'In my home, books spill from the shelves; they lie in piles on furniture,
on the floor, barring passage from room to room. I cannot, of course,
read them all, yet my wolfish eyes constantly crave new titles.'
(from Road-Side Dog by Czeslaw Milosz)
---
Why do readers flock to author appearances, book(s), pen, and camera in hand, seeking signings? Don't know about you, but when I like a book, I long to meet the author, to follow my new trains of thought to their creative source. And even when a book doesn't speak to me, I'm still curious about the person who penned it. I confess to just plain being an autograph buff, though sometimes I do (altruistically) seek a signed copy as a gift for friends or family. I try to be friendly, assertive but not overbearing, and I always remember what teachers and seminar leaders often say, No question is too stupid, if it needs to be asked! As a Biblioholic, it is difficult to pick out one signing as more significant than another, but there are those that I will never forget, for the exhilaration and just plain glee that I felt. So here goes, here are my significant signings ...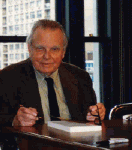 The most emotional, humbling meeting for me was with Nobel Laureate Czeslaw Milosz. I was blessed to meet this intellectual, courageous and gentle man at Barnes and Noble in Union Square, Manhattan in 1999. My spouse and I had just returned from two splendiferous weeks discovering, for the first time, my ancestral roots in Poland. Behold, in the New York Times, mention of a book signing, featuring the great Lithuanian-born poet and author! I jumped up and down with joy - the timing was perfect, my presence at this signing was meant to be. I arrived early to make sure of a good seat, and awaited the great man's entrance with sweating palms, heart beating fast, camera ready. I was so close I could almost reach out and touch Milosz as he sat on a platform in front of me! Pan Milosz looked wonderful, as he read some of his works to an enraptured audience. Then came the time for signing ... I stood in line until my number came up (signing seekers learn to wait patiently, for hours sometimes). And, there I was in front of the eminent author. I assertively (always do) put out my hand to shake his, which he accepted. I spoke to him in Polish. He smilingly, with the gleam he has in his eyes, accepted my gesture. I asked Milosz if he would kindly pose with me for pictures. I expected nothing less from this Polish gentleman but a "Tak" (Yes). After a closing greeting to each other - "Dziekuje bardzo!" (thank you very much) and "Prosze" (you are welcome)! I took my leave from his kindly presence, books in hand - Road-Side Dog and Native Realm. I'll tell you, it took weeks to come down from that cloud! Sadly, Milosz died at home in Cracow on August 14, 2004. I feel privileged to have met him in person.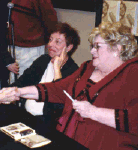 A very-close favorite in my signing memories is one with Rosemary Clooney, the wonderfully warm, talented, singer and actress (I bet her starring role with Bing Crosby in White Christmas immediately comes to your mind.) I impatiently made my way to Barnes and Noble at Lincoln Square for this signing event. Ms. Clooney was to autograph her biography Girl Singer and a CD album of the same name. Again, I made sure to be early and up front. Ms. Clooney made her entrance with an entourage including her husband, grandchildren, an agent, an assistant author and the publisher's rep. She graciously answered questions from the audience. When my turn came at the signing table, I passed the camera to the fan behind me, and he dutifully clicked away. As at other signings where we all come together for the same purpose and make friends in line, the photo taking (and photo exchanges by mail too) is typical of attendees' generosity and helpfulness. We signing-seekers understand each other well! I asked Rosemary if I could give her a hug. "Of course", she replied and that was one of the most loving, warm and I-mean-it hugs I have ever received. As I left the signing area, Ms. Clooney blew me a kiss! This is a lady one would love to have as a neighbor. Sadly, Rosemary Clooney is also no longer with us, having died in June, 2002. Meeting her is something I will never forget.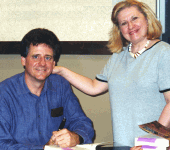 Another close favorite in signing personalities is historical novelist Jeff Shaara, whose book coverage includes the Civil War, the American Revolution and the Mexican War. Jeff Shaara's father was Pulitzer Prize winner Michael Shaara, author of the Civil War novel, The Killer Angel (on which the movie Gettysburg was based) and For Love of The Game, also made into a motion picture. After his dad's death in 1988, Jeff Shaara switched careers and carried on the family writing tradition with his successful first novel, Gods and Generals, a prequel to Killer Angels. Jeff Shaara is currently working on a World War I novel, To the Last Man, to be released late October. The signing, where I met this author, was again at the Lincoln Square Barnes and Noble and, as usual, I was early and up front. Jeff talked to the audience about his books and his father, and opened to questions and answers - his demeanor was wonderfully likeable and empathetic. He graciously took the time to visit with each of us, and to personalize every book I had in hand -- those I brought with me, and additional copies that I acquired at the store. These words (from The Last Full Measure) show the measure of a historical author: 'This is neither a history book nor a biography, but a story told from the points of view of the characters themselves, through their own eyes and their own experiences' and 'While this is a novel, it is not false history. The time line, the events, and the language are as accurate as I could make them.' Meeting Jeff Shaara was another high point, a most significant signing for me.


Soon (October 2-3, 2004), it will be the glorious New York Is Book Country event of the year on Fifth Avenue, East Side Manhattan - a whole weekend of opportunities for the dedicated signing seeker, along with entertaining children's activities. I recommend planning ahead, as authors are scheduled at specific times; some are only there for an hour or two. Also, surprise authors and other celebrities often show up without being noted on the schedule, so be prepared for serendipity. I hope to see you there! And, from a dedicated signing seeker, thanks in advance to all the authors who show up to spend time in conversation with their fans, and to the publishers and bookstores, which sponsor these appearances. Though they take some effort, signings create wonderful, lasting memories. I wish all fellow signing seekers many significant ones.
---
Note: Opinions expressed in reviews and articles on this site are those of the author(s) and not necessarily those of BookLoons.
---