Sammy's Shelf
March 2012:
Quality time together means sharing a book ...
---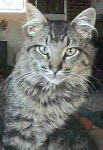 The other day I was rummaging through my person's new book pile and came across a really cute children's story about a Japanese kitten named Yoko. Written by Rosemary Wells, Yoko Learns to Read (Hyperion/Disney. ISBN 9781423138235) is about how Yoko and her mother keep reading the same three picture books written in their native tongue. Then, when Yoko's teacher won't give her additional reading credit for repeating the same stories over and over again, the kitten realizes that her mother can't read English.

With a little help from Mrs. Jenkins (her teacher), Yoko starts to read simple words. Pretty soon she is able to read to her mother the picture books they begin to borrow from the library. Not only is Yoko's mother very proud of her daughter, but at the end of the story she also asks Yoko to help her learn to read in English.


This was a purrfectly delightful story and it got me thinking about how important it is to spend time reading to little children. When my person was reading to his children I would sit next to them on the sofa and that's how I picked up this important skill.

Of course, it took him a while to realize how smart I was and how quickly I mastered understanding and reading his language. (I might note, though, that he still hasn't figured out my native Maine Coon lingo!)

Sadly, Iíve noticed that today with all the technology and interactive, hand-held contraptions that are available and supposedly make reading fun for children, there's not that same contact that once existed when it came to story time!

Rather than sit in an adult's lap and have a story read to him or her, many youngsters today are given one of these little devices. Once they learn to use their fingers to manipulate the screen they don't need an adult to read a story. So they can sit by themselves and fiddle with this reader. Oh gosh, isn't that fun!

Yes, in some instances there may be a voice that narrates the story, some music and even interactive elements, but I don't think this is quite the same as enjoying a book the old fashioned way. I'm not sure this increases or enhances literacy either. I'm sure some people claim it does.

I think there's something very wrong about this process. Down the road I'm afraid the children who master reading in this manner may exhibit not only the inability to concentrate while reading lengthy books, but they will also not find this type of new-age, reading material very interesting because it lacks the dog-and-pony elements that these electronic readers often feature.

What happens to that important human contact that comes when you sit next to someone to read a good story? I know I really enjoyed that experience and I think my person's daughters did too. Doesn't that associate positive feelings with reading? I know I was purring whenever we all sat cuddled together with a book open in front of us.

Call me a feline Luddite, but I think, the old fashioned nightly reading session where everyone sits together and shares a real book with one's kiddies is important. I know how important it was in my family and if I had kittens I'd make sure to make time for an evening story.
---
Sammy shares living quarters with Bob Walch. Not only does Bob provide the basic essentials for this loquacious feline but he occasionally offers editorial assistance. Find more of the Maine Coon's musings at CoastTraveler.com.
---
Note: Opinions expressed in reviews and articles on this site are those of the author(s) and not necessarily those of BookLoons.
---