Sammy's Shelf
January 2012:
My favorite feline sleuths solve another mystery ...
---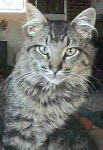 I don't normally read novels because I have a limited attention span, but I make the extra effort for any book that features cats. Shirley Rousseau Murphy is not only a cat lover but she has also created a very successful series of mysteries that showcase three, very intelligent felines.

Cat Telling Tales (William Morrow. ISBN 9780061806926) is the 17th Joe Grey novel and I enjoyed this latest suspense yarn from start to finish. What I really like about the four footed characters in these stories is that they all exhibit various degrees of attitude.

While Joe Grey, the series' namesake, is feisty and displays the type of behavior a typical cat displays, his lady friend, Dulcie, is a little more benign and thus moderates some of Joe's occasional outbursts and bouts of temper. The third major cat in the trio, Kit, is still quite young and is the impulsive member of this unusual investigative team. All three cats can talk, but they only communicate with a select group of humans who know enough to keep their four footed friends' special ability secret.

The series is set in Molena Point, which is actually the coastal community of Carmel, California. It just so happens that Carmel is just a few miles away from where I live. Joe Grey and his buddies have been assisting the local law enforcement authorities over the years by phoning in tips that help Police Chief Max Harper solve some of his department's more puzzling cases.


This new caper involves real estate fraud in the posh village as well as some homicides. Of course, the cops draw a blank when it comes to tracking down the person responsible for the crime spree, but the cats will be more than up for the task. What I really liked about this novel was not only the fact that the plot got really exciting in the home stretch but also that the author had some comments to make about the treatment of cats left behind when their owners' homes were foreclosed upon and they moved away.

Murphy mentions the rescue folks who take care of these abandoned felines and also points out that these poor kitties need to be properly treated. More cats have been deserted by their owners over the last four years than ever before and this is really a very unfortunate situation.

I also noticed that one of the characters in this novel is named Sammie. Now that may be just a coincidence, but I have to admit that the author does know me, so perhaps that was her way of acknowledging me. On the other hand, I could be way off base here for Sammie is a human and not one of the cats that appears in the story. Also, Sammie meets an unfortunate end so, giving it further thought, I hope Ms. Murphy didn't have me in mind because that would be a very bad omen!
---
Sammy shares living quarters with Bob Walch. Not only does Bob provide the basic essentials for this loquacious feline but he occasionally offers editorial assistance. Find more of the Maine Coon's musings at CoastTraveler.com.
---
Note: Opinions expressed in reviews and articles on this site are those of the author(s) and not necessarily those of BookLoons.
---