Sammy's Shelf
April 2015:
I don't think so ...
---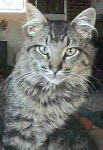 When I saw The Best Cat Book Ever (St. Martin's Griffin, ISBN: 9781250050380) by Kate Funk sitting on my person's desk, I thought to myself, 'Oh brother, this should be good!'

I pawed through the book of color photos (there are over 200 of them) and realized that they were all of this lady's black cat dressed in various getup's. There's a picture of the kitty, AC is his name, as a princess and a Viking and another of him as a garden gnome. It goes on and on and on ...

Oh, ick. How demeaning! The lady who put together this collection of photos explains how much she loves cats and how she decided to do this project because her cat was so complacent when it came to wearing stupid costumes and sitting on a made up set.

Of course, the lady admitted that AC had to be bribed with an open can of cat food to sit for each photo shoot. She also comments on her cat's apparent look of disdain which seems to counter the hokey dress-up play he is subjected to.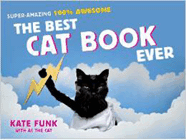 Well, HELLO, LADY, what do you expect when you do something demeaning like this to your kitty? Sure, I get it; you've discovered how to make a quick buck off your cat (she produces post cards of RC too), but don't pretend in the book's Introduction that RC just loves being photographed in this silly manner.

I have to always wonder about the people who dress their dogs or cats up either in cute outfits for special occasions or because they fear the critter can't handle inclement weather. What nonsense! We can handle cold or wet days better than our people can. We've been doing it for centuries, right?

And playing dress up just because you think it is cute is NOT the way to treat your four legged companion. Since we don't wear clothing, how would you like it if we insisted you also not wear anything when you were around us. Oops, come to think of it there are some folks who do go naked around us. Scratch that idea ... it can be rather gross!

The book's cover calls this collection of photos 'Super-Amazing, 100% Awesome' but, as you no doubt gather, I disagree. They really weren't that clever or cute ... I have seen better kitty pictures (without all the paraphernalia included). I also question the author's claim that 'AC enjoys wearing his outfits and posing for the camera'.

That's just a pile of regurgitated Meow Mix. I, for one, don't buy it at all. That's purrrrfectly ridiculous, just like this book of silly photos!
---
Sammy shares living quarters with Bob Walch. Not only does Bob provide the basic essentials for this loquacious feline but he occasionally offers editorial assistance. Find more of the Maine Coon's musings at CoastTraveler.com.
---
Note: Opinions expressed in reviews and articles on this site are those of the author(s) and not necessarily those of BookLoons.
---