Sammy's Shelf
January 2015:
If you are in need of a laugh or two ...
---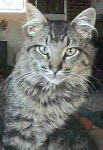 My person is not a happy camper right now. Two neighborhood cats just got into a scrap in our backyard and took out our fountain. The top part toppled over, so we have a headless water goddess who doesn't produce falling water anymore.

We've had the fountain for longer than I've lived here, plus we have three others so I don't see what the big deal is, but Mr. Fountain guy is muttering to himself and giving me nasty looks. Hey, I was in the house watching all the action from the upstairs deck. It wasn't my fault!

Anyhow, I figured I better do something to lighten the mood around here or I might not be getting any Christmas presents. I went through the big pile of books and found Cats Got Talent (Simon & Schuster, ISBN: 9781442494510) by Ron Barrett and laid it out on my person's desk where he would find it.



Now you might not think that a book with this title would assuage my person's foul mood but it did. This picture book is about three kitties who get tossed out of their comfortable homes with humans. In two instances the kitties' behavior was less than exemplary while the third feline's person had fallen upon hard times and couldn't support him.

These kitties meet while scavenging food in an alley and they discover that they enjoy singing together. When one of the trio tells them that musical groups make big bucks, they decide to see if they can cash in on their talent.

After rehearsing a few times, they open one night in an alley between two apartment houses. Needless to say, they have quite an impact on the sleeping neighborhood but they do achieve their end.

This was rather a funny story with plenty of cool cat illustrations (Ron Barrett also did the illustrations for the classic humorous book Cloudy with a Chance of Meatballs), so I figured it might lighten my person's then negative view of those of the feline persuasion.

Did it work? I think so! He rubbed behind my ears when I hopped up in his lap just now and my person placed a nicely wrapped box of Kitty Treats under the Christmas tree. So, misbehaving cats notwithstanding, in one way or another I think kitties do have a lot of hidden talents. At least this one does!
---
Sammy shares living quarters with Bob Walch. Not only does Bob provide the basic essentials for this loquacious feline but he occasionally offers editorial assistance. Find more of the Maine Coon's musings at CoastTraveler.com.
---
Note: Opinions expressed in reviews and articles on this site are those of the author(s) and not necessarily those of BookLoons.
---