Sammy's Shelf
November 2014:
Two paws up for this guide ...
---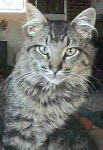 My person hasn't left any interesting books laying around the house lately so I've been watching a lot of TV! Ugh! It's pretty bad, but I do get a kick out of some really strange looking guy who likes to show people how to relate to their cats and change bad cat behaviors. This guy on My Cat From Hell looks like he might be more at home helping poor souls cross the River Styx than giving advice on naughty kitties, but, from my perspective, the sage advice he offers can be amusing.

Now the other day I came across an odd book, The Cat Behavior Answer Book (Storey. ISBN: 9781580176743) by Arden Moore, sitting on my person's desk. Now what's this? My deportment is exemplary. My person couldn't be reading this to alter my behavior, so what's the deal here? Well, he does review books, so perhaps this was just a reviewing assignment.

Since no one was around I thought I'd page through this little paperback to see what kinds of problems the author felt she was competent enough to address.


The book is designed around a series of questions and answers that look at everything from the use of the litter box and feline conversations to scratching on furniture and feuding felines. I have to admit that many of the answers the author provided were right on the mark, while many of the Feline facts she sprinkled throughout the book were pretty interesting.

For example, I discovered that the glop I hack up when I unload a hairball is not just called gunk. The technical term is trichobezoar. Now imagine that! That's nice but I'm still going to refer to it as gunk.

One thing I did find really fascinating was reading about the strange and nasty behaviors other kitties apparently engage in. I jotted a few down so if I need to get my person's undivided attention or wish to drive him up the wall, I can try a few of these things out.

I found the advice the author gave on how to pet a kitty quite enlightening so I propped the book open to the beginning of this part of the book so my person would see it. Now I hope he takes the hint because his technique could use a little refining!

So although I didn't think I would approve of this cat book, I have to admit it does merit a two paws up. If you have a kitty or know anyone who has one, you might think about getting them this handy guide. Tell them Sammy recommended it!
---
Sammy shares living quarters with Bob Walch. Not only does Bob provide the basic essentials for this loquacious feline but he occasionally offers editorial assistance. Find more of the Maine Coon's musings at CoastTraveler.com.
---
Note: Opinions expressed in reviews and articles on this site are those of the author(s) and not necessarily those of BookLoons.
---