Sammy's Shelf
May 2014:
Poorly behaved cats give kitties a bad name ...
---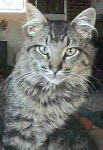 Helen Hancocks, the author of Penguin in Peril (Templar. ISBN: 9780763671594) got my dander up a bit. In this new picture book Helen does not cast kitties in a very positive light. In fact, the three cats here are rather naughty and definitely morons.

Because they are hungry, the three cats devise a plan to satisfy their craving for a big fish dinner by kidnapping a penguin from the zoo. Hello there! I don't think a penguin is a fish. What dumb kitties! The author colors the cats red so I don't think she's really a cat person either, so there's another problem.

Well, anyhow, I kept reading. Next, these misguided, red cats don masks and striped T-shirts (don't ask, I don't know why) and head over to the zoo where they cat-nap a cute little penguin.

They take him back to their hangout and tell him their plan. Are they going to eat him? No. Well, that's a relief!

They are going to use him to catch fish but since the dumb cats don't speak penguin very well, they don't make their intentions clear, so the penguin is feeling rather stressed out.


On the way to the fishing boat the next day the confused penguin escapes and tries to waddle back to his home at the zoo. The rest of the story follows the cats' hot pursuit of the penguin. Does the penguin get back home? Of course he does and awaiting him is a nice fish dinner. Does he share with the misguided cats? Of course not! What happens to the mischievous cats? They get sent to jail where all they are given to eat is gruel (whatever that is).

If you ask me, this is a pretty fishy story because the cats I know are not so dumb that they would enlist a penguin to help them catch their dinner. Also, I'm not so sure penguins are that clever either. This one outsmarts the three dumb kitties, but this may be just an example of wishful thinking on the author's part. The fact she colored the cats red shows she may not know much about cats!

Now as a children's story Penguin in Peril is sort of funny, but don't get hold of the wrong end of the stick here. Real cats are pretty darn intelligent and we would not make fools of ourselves the way this gang of fictional, blundering felines do.
---
Sammy shares living quarters with Bob Walch. Not only does Bob provide the basic essentials for this loquacious feline but he occasionally offers editorial assistance. Find more of the Maine Coon's musings at CoastTraveler.com.
---
Note: Opinions expressed in reviews and articles on this site are those of the author(s) and not necessarily those of BookLoons.
---