Sammy's Shelf
Januery 2014:
This gal has her priorities straight ...
---
When I read Captain Cat (Candlewick Press. ISBN: 9780763661519) by Inga Moore I thought to myself, "Wow! This lady author knows what she's writing about!"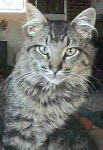 This picture book is about a ship captain who loves cats. In fact, there are more kitties on board his trading vessel than sailors. As the story develops, we discover that one day, after a big storm that blows him off course, Captain Cat discovers a remote island inhabited by people who do not have any cats. If you think that that is a real shame, you are right. Not only are these poor islanders deprived of a cat's superior companionship but their island is also overrun by rats! Ugh!

When the island's queen sees Captain Cat's four legged companions, she is delighted. She insists he bring them ashore to lunch at the royal palace. As everyone sits down to eat, the royal banquet hall is overrun by rats! Ugh! Naturally Captain Cat knows how to deal with this situation. Calling his cats into the room, the captain tells them to take care of the uninvited intruders.

The queen and all her subjects are astonished and delighted about what happens next. Soon the nasty rats are laid out in neat rows of corpses and the rodent problem is solved.


At this point the queen begs Captain Cat to leave his pets on the island and she rewards him with bags of precious gems. Reluctantly he agrees. After sailing off, Captain Cat (or perhaps we should now call him Catless!) is quite unhappy because he misses his feline friends.

There's much more to the story but I'll let you discover how the author turns this potential tragedy into a live happily ever after tale. After further adventures, Captain Cat is able to recapture the happy times he has experienced with his wonderful kitty companions.

Not only is this book dedicated to 'cats everywhere' but it has cute illustrations of these adorable creatures. And, more to the point, Inga Moore gives cats their due and recognizes how important they are. Their companionship is much appreciated by those in need of a little fellowship while the cats' unparalleled hunting skills are showcased.

Too often it is ignored or forgotten that cats provide timely services to those who live in the country and have problems with filthy, unwanted rodents. Where would humans be without the barn or stable cat who patrols the outbuildings keeping them free of hairy, pesky, destructive visitors?

So paws up to Miss Inga for making us the stars of this picture book that reminds people of the services we freely and graciously provide day in and day out. Hooray for cats! We are marvelous creatures!
---
Sammy shares living quarters with Bob Walch. Not only does Bob provide the basic essentials for this loquacious feline but he occasionally offers editorial assistance. Find more of the Maine Coon's musings at CoastTraveler.com.
---
Note: Opinions expressed in reviews and articles on this site are those of the author(s) and not necessarily those of BookLoons.
---