Sammy's Shelf
July 2013:
How many times have you been warned to be careful what you wish for?
---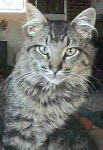 The minute I saw To Be a Cat (Atheneum. ISBN: 9781442454057) by Matt Haig, I knew this was a novel I had to read. Imagine, someone was writing about what it was like being a cat. Well, not quite!

Actually, this was the tale of a boy who, in a moment of unhappiness over the sorry state of his life, wished he were a cat. As those of us who are well read in fantasy know, one must be quite careful of what one wishes for. In the case of poor Barney Willow, his wish is granted, but he discovers being a cat isn't all that cool.

In his changed (some might say greatly improved) state, 12 year old Barney discovers some shocking truths about the world he inhabits. For example, he discovers that the feared and much disliked principal of his school, Miss Whipmire, is really a cat. He also discovers that his father, who has gone missing, has been transformed into a cat as well.


It doesn't take Barney long to realize a cat's life is not all catnip and long afternoon naps. And although it is possible to reverse his present condition, the boy discovers his nemesis, Miss Whipmire, has no intention of allowing this to happen.

'I'm doing what I'm paid to do. I'm educating you,' she tells Barney as she locks him away in a filing cabinet in her office. 'I'm giving you a lesson in horror, and teaching you that you should really be careful what you wish for. Oh, and that thing about cat's having nine lives, well, that's a lie, as you'll find out when I take you home.'

Why this human/cat lady is so nasty to Barney and how he gets out of the precarious predicament he finds himself in is all explained in this novel so I'll let you get a copy and read all about it yourself. Suffice it to say that Barney does sort of work things out, justice is served (kind of) and almost everyone lives happily ever after.

Although this is obviously a work of fiction, To Be a Cat got me thinking about the life I have as an indoor kitty. I have to admit that it isn't a bad existence. Sure, I'd like more outside privileges, but other than that I like being pampered and having an entire house all to myself. Not only do I get all my meals and weekly grooming but I get to snuggle up with my person for quality time whenever I want some.

Granted I wish there was more play time and I'd love to have a few more kitty treats to augment my rather bland diet but other than that, being a cat really isn't that bad. Barney sort of got hold of the wrong end of the stick when he got himself into his little predicament so he couldn't enjoy all the perks that go along with the feline lifestyle. But, then again, that is so like humans; the poor souls never really savor the moment or learn to be happy and appreciate what they have.
---
Sammy shares living quarters with Bob Walch. Not only does Bob provide the basic essentials for this loquacious feline but he occasionally offers editorial assistance. Find more of the Maine Coon's musings at CoastTraveler.com.
---
Note: Opinions expressed in reviews and articles on this site are those of the author(s) and not necessarily those of BookLoons.
---