Sammy's Shelf
April 2013:
We are such versatile creatures ...
---
I love to page through children's picture books. They are a nice change of pace from my usual perusal of economic tomes, history books and wild animal adventures.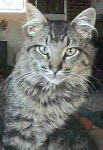 What piqued my curiosity about Scott Hennesy's The Cat's Baton Is Gone: A Musical Cat-Tastrophe (Disney-Hyperion. ISBN: 9781423145837) was the silly picture on the cover. Obviously this was a book about cats but I thought the kitty sporting a lengthy pompadour and wearing formal attire pictured on the cover was a bit bizarre. I mean, 'Really?' What cat would be decked out like that?

Well, it turns out that Leopold von Kittenkott, that's the cat's name, is the conductor of an orcatstra. Yup, you read that right! It seems that the Meowstro was upset because his baton had disappeared and without the little stick he couldn't conduct his mewsicians.

So what does this odd kitty do? He checks with all the cats who play in the orcatstra to see if any of them know where his baton is. Each cat pictured, and there are a lot of them, plays a special instrument and is dressed accordingly. For example, the cat playing the bagpipes is in a kilt while the taiko drummer sports a very Japanese look.



The more he checks with the members of his musical cat crew, the more von Kittenkott realizes he is dealing with a big cat-tastrophe! But the search goes on until the not so bright conductor comes up with the purrfect solution to his dilemma. Although it is kind of dumb, I won't spoil the solution this character devised for solving his problem. You'll probably think it is funny and laugh!

At the back of the book there is a glossary of the musical instruments that various cats featured in this book play. Along with a picture of the instrument, there's a descriptive paragraph that tells you something about each one. You'll learn about a cello, concertina, didgeridoo, oboe and even a pungi (snake charmers play them in India).

As I looked at all these items I thought, 'Wow, what clever creatures we are to master such diverse musical instruments!'

Now I've often sung the praises of my kind before in this column because, heaven knows, we are a marvelous collection of creatures, but this book confirms that fact.

Imagine any other critter (especially a dog) displaying such proficiency when it comes to making music and, Lord knows, when it comes to singing few, if any, beings can match our vocal range and ability to project those delicate high notes that some misguided individuals mistake for screeches!
---
Sammy shares living quarters with Bob Walch. Not only does Bob provide the basic essentials for this loquacious feline but he occasionally offers editorial assistance. Find more of the Maine Coon's musings at CoastTraveler.com.
---
Note: Opinions expressed in reviews and articles on this site are those of the author(s) and not necessarily those of BookLoons.
---