Sammy's Shelf
October 2012:
It may be time for Halloween but don't expect any treats from me ...
---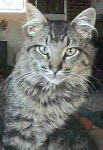 I have to admit that the picture book Boo to You! (Little Simon. 9781442436138) is sort of cute, but, nevertheless, I did find it a tad offensive as well.

Lois Ehlert's story is about some garden mice who are preparing their yearly harvest feast but they donít want a black cat to join the feast. Why? Quite simply they are afraid that the kitty would consider his hosts the main course.

Well, the kitty is determined to crash the party, or so the mice think, so they immediately begin to prepare countermeasures to keep the cat away. Besides scary masks, the mice fashion a fearsome looking creature from a large pumpkin and other veggies like gourds, corn and even broccoli. How clever!

Of course, the poor kitty is scared out of his wits and runs away. The mice celebrate and think their veggie monster is the cat's pajamas. (I can't believe I just said that! Ugh!)

Now you might be wondering why this bothers me just a bit. It is because the littler rodents make fun of the cat and dub him a Scary Cat. Of course, in the story the kitty is really portrayed as a scaredy cat since he runs away. I think that is really demeaning.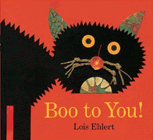 In my household I have been dubbed with that negative label. Just because I am sensitive and run and hide when strangers enter the house or when I hear the UPS truck pull up in front with more review books for my person, I am considered to be a big wuss!

I can assure you that I AM NOT A SCAREDY CAT! I am just cautious when it comes to encounters with strangers. Also, if they would fix the brakes on that silly UPS truck so they don't squeak, I wouldn't be so irritated by the screech!

People forget that cats don't announce visitors or intruders on the property the way dogs do. We investigate. We check out the situation. We don't create a commotion and disrupt the entire neighborhood with uncontrolled barking the way dogs do.

When there's a real intruder, we can take action. Ask my person what happened the morning an uninvited cat slipped in the cat door and meandered into his bedroom uninvited. I was there to defend him and before you could say catnip, I pounced on the intruder.

Of course, the ensuing feline fight jarred my person out of a sound sleep and I think he did use some rather naughty daddy words to describe the situation, but I dealt with the marauder.

So, enough with this scaredy cat stuff! I, like my fellow kitties, can rise to the occasion when it is merited, and be as brave as need be. What we don't do is go bonkers whenever there's a small distraction, like some other house companions!
---
Sammy shares living quarters with Bob Walch. Not only does Bob provide the basic essentials for this loquacious feline but he occasionally offers editorial assistance. Find more of the Maine Coon's musings at CoastTraveler.com.
---
Note: Opinions expressed in reviews and articles on this site are those of the author(s) and not necessarily those of BookLoons.
---