Sammy's Shelf
August 2012:
Donít Talk to Me, Iím Totally Stressed Out ...
---
IWhen I saw this book I thought, 'Right on!' Why? Because when we get stressed, critters of my persuasion hide! And, boy oh boy, let me tell you, have I been stressed out and staying in my hidey-hole the last few days!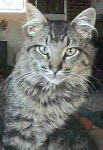 Eric Carle's Have You Seen My Cat? (Simon & Schuster. ISBN 9781442445758) is all about a little boy whose cat disappears. The boy goes all over the world asking people if they have seen his cat. They always point to an animal that is NOT his pet and the boy must always reply, 'That is not my cat!' Actually, the book is kind of clever because all the animals belong to the cat family. So there's a panther, lion, jaguar, bobcat, cheetah and puma pictured in the book. Of course, finally the boy does find his cat. Hooray!

There's a lot of repetition in this picture book because it is a Ready-to-Read story for beginning readers. The pictures are easy to identify and the words are very simple, but that's OK because that's how little ones learn to read by themselves.

Now, at this point you are probably wondering why this book or rather its title spoke to me? Well, my person and his wife (actually it was her idea!) thought it was time to redo their kitchen. Did they consult me? Of course not!



So early Monday morning in came three guys who totally disrupted our household. I knew something was up because all weekend the stuff in the kitchen was moved to other rooms of the house. What a mess!

Then the fun began! The men put up tarps and began using really noisy machines to sand down all the cabinets. Oh my goodness! This really freaked me out. And the whole house smelled funny too. It was sort of like a cross between a saw mill and a dusty old attic.

Then the next day the men arrived even earlier (7 a.m.) and the noise wasn't quite as bad, but they began cutting stuff up into pieces and gluing it to the cabinets. I think it was called laminate or a veneer. Who knows! Anyhow the smell was fierce. Let me tell you the place smelled like a chemical plant on fire.

When people began asking, 'Have you seen the cat?', I just hunkered down even more underneath the bed upstairs. No way, Jose, was I coming out!

I don't know how long this commotion is going to last (I heard my person say a week or more) but I'll be really happy when our house returns to normal. Only then will I come out of hiding and inspect the new kitchen. I suppose I'll have to rub all over the refurbished counters and re-mark them all. What a pain! And, if I don't really care for the new look (and smell), I might have to scratch it a little to show my displeasure. Well, maybe that's not a swift idea if I want to keep living here!
---
Sammy shares living quarters with Bob Walch. Not only does Bob provide the basic essentials for this loquacious feline but he occasionally offers editorial assistance. Find more of the Maine Coon's musings at CoastTraveler.com.
---
Note: Opinions expressed in reviews and articles on this site are those of the author(s) and not necessarily those of BookLoons.
---