Sammy's Shelf
October 2011: A Place to Call Home
---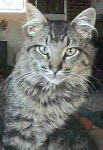 I'm a cat, a Maine Coon to be specific, and I love to read. Now I'll read just about anything, but I love books about animals. Why, you might wonder? Well, isn't the answer obvious? I DO have some EXPERTISE when it comes to four-footed creatures!

So, let's talk books! A Place to Call Home (Candlewick Press. ISBN: 9780763653606) by Alexis Deacon is a really super picture book that deals with what constitutes a home. The characters in this book are little furry rodents that live in a hole in the ground. Now there are a whole bunch of them - I think I counted six - and the more they eat, the larger they get. This means they eventually outgrow their living accommodations.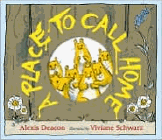 Now the fun begins. They must find a new domicile! Not being too bright (they are rodents!!), the critters look for a new hole. One sticks his head in a drinking straw, and another puts a cup over his head while two others pull a glove over their heads. Oh dear, they are really in a quandary since none of these domestic alternatives seem to meet their needs for safety!

Well, the quest, such as it is, continues and eventually the group stumbles upon a washing machine. That may appear to solve their dilemma but it doesn't and then along comes a very big dog. He grabs one of the furry little ones and now it is panic time.

Fortunately, the rodents rescue their brother and, yes, they finally solve the problem of finding a new home! Children ages three and older will find this a very entertaining book.

Actually, reading this wayward tale of displaced rodents reminded me of how I found my present home. I was rescued from a pet shelter when I was just a little kitten and brought here to live. Thank goodness my person (that's the guy I live with) taught me to read so I wouldn't get bored when he was away at work. Believe me, that ability makes my days so much more interesting. Of course, I also mastered the ability to type and use the computer too, hence this column!
---
Sammy shares living quarters with Bob Walch. Not only does Bob provide the basic essentials for this loquacious feline but he occasionally offers editorial assistance.
---
Note: Opinions expressed in reviews and articles on this site are those of the author(s) and not necessarily those of BookLoons.
---