Between the Panels: Class Is In Session
By Lance Victor Eaton (July 2008)
---
Books, as we have known since we picked up our first picture book, are essential to our world. They offer information and knowledge, stories and poetry; most of which we are encouraged to indulge in at every opportunity. But how useful are the how-to guides that bombard bookstores every day? Can you learn to play the violin with the most recent Idiot's Guide, or do you really think you're ready to play the stock market after scanning the latest volume that guarantees an instant 1000% return? And what is to be gleaned from books purporting to teach the art and method of drawing comics?


First up for this challenge is Al Bigley with Draw Comics Like a Pro. Having worked on some of the major Marvel and DC properties and dabbled in a variety of other art-related projects, Bigley certainly has the resumé to approach the subject. His book is an extension of Watson-Guptill's continuing line of how-to volumes relating to comics. Bigley relies on iconic characterizations. He uses certain trademark elements of famous comic book superheroes without actually acknowledging who is being depicted. He uses color extensively, helping the reader get used to considering color (or non-color) schemes.

Predominantly though, the book focuses on the drawing of comics - rather than on the many other aspects it takes to actually create a comic book. Chapter topics include body language, close-ups, glows and bursts, special background elements and other drawing-specific concepts that really concentrate on the singular panel or short set of panels and not necessarily on the storytelling aspect of comics. It's a useful tool but limited in scope.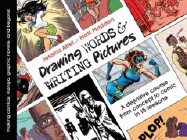 By contrast, in Drawing Words & Writing Pictures, Jessica Abel & Matt Madden operate more familiarly in the alternative genre of comics where attention is given to subtlety and sophistication instead of brawn and curves. Their extensive text works to get readers to consider the underlying meaning and purpose of their work and introduces them to the medium, paying heed to the masters and sages in the field of comics. Much of this work is supplemented with excerpts, snippets, and panels from some of the most impressive talents in the industry. They don't just throw in pictures to make it look pretty, but rather integrate example after example to drive home points.

Their overarching goals drive Abel & Madden to break up their book in similar ways to Draw Comics Like a Pro, but they branch out into much larger-ranging categories - from pondering the medium (what is comics?) to page layouts, to story structure, and considering the different forms of creation (ink, computer, woodblock). The book is loaded with additional resources, key asides and practice guides. Essentially, the authors build this as a multi-purpose and wide-ranging tool accessible and adaptable to those in a classroom as well as to the random individual who picks it up to learn.

While Drawing Words & Writing Pictures lives up to its subtitle, 'A Definitive Course from Concept to Comic in 15 Lessons,' Bigley's Draw Comics Like a Pro proves a good introduction. That is, an aspiring artist might do well starting with Bigley's book and moving on to Abel and Madden's more challenging and comprehensive text.
---
Note: Opinions expressed in reviews and articles on this site are those of the author(s) and not necessarily those of BookLoons.
---