Between the Panels: Comic Strips
By Lance Victor Eaton (August 2007)
---
Are they a dying breed or have they gained new life through the medium of the Internet? Comic strips first emerged in the late nineteenth century and thrived in the early twentieth century plethora of newspapers and magazines. However, as newspaper and magazine circulation has dwindled in the last twenty years, so too have comics pages, with many comic strips cancelled or prematurely ended. Quite a few artists have relocated to the Internet to keep their series going, while others have hung up the pen for other work.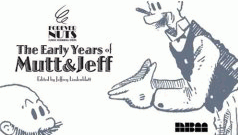 Interestingly, Mutt and Jeff went well beyond its relevant life and worth. Started in the first decade of the 1900s, this series features Mutt, a rather unsuccessful man who can't seem to hold a job or win a bet - that is, unless Jeff is around to exploit. Forever Nuts: Classic Screwball Strips: The Early Years of Mutt and Jeff (edited by Jeffrey Lindenblatt) provides a great history of the series and how it managed to survive until the 1980s, as well as a history of comic strips and the troubles they faced in the first half of the twentieth century. The essay is brief and complemented by pictures and a few strips. The strips themselves are taken from the 1909-1913 period of Bud Fisher's long stint on the series. The art and text have been restored. However, with two strips per page, the text for each strip is a bit smaller than readers may be used to. Even so, many strips maintain their humor and will keep readers entertained.

Mutts (of no relation to Mutt and Jeff) follows the antics of Earl the dog and Mooch the cat. Surprisingly, little to no context is given for this series in Patrick McDonnell's Animal Friendly: A Mutts Treasury, but readers might not care, for it's easy to fall into step reading strip after strip of this amusing series. The brief pieces can be enjoyed by both adults and kids while Mutt and Jeff would be more appreciated by adults. While most of the Mutts strips are black and white, several dozen in color add a good mix to the book.


On the other hand, Terry and Patty LaBan's Edge City: A Comic Strip Collection focuses on Ardins, a Jewish American (functioning for the most part) family and their trials and tribulations. Much of the humor arises from the husband, Len, and wife, Abby as they navigate daily life. These full color strips contain ongoing storylines that will span a few weeks worth of strips. Though each one can be appreciated, the cumulative effect adds even more amusement.

Comic strips may be fading from the limelight or may be finding new life. But the talent needed to repeatedly draw and script repeated gags should not be underrated. These collections prove that it takes skill and intelligence to execute this kind of work.
---
Note: Opinions expressed in reviews and articles on this site are those of the author(s) and not necessarily those of BookLoons.
---