Between the Panels: Not Your Average Narrative
By Lance Victor Eaton (February 2007)
---
The way in which one tells a story is just as important as what the story is. Many comic artists maintain a very straightforward narrative style that readers enjoy. But occasionally, artists come along, who challenge the conventional style of narrative and provide rather engaging material for readers.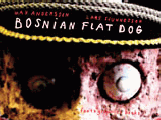 Bosnian Flat Dog throws truth and fiction into a blender and spews it across the panels of this graphic novel. Max Andersson and Lars Sjunnesson have created quite the surrealistic tale of war, and bizarre fixations. The story begins with the characters - Sjunnesson and Andersson - attending an alternative comic press convention. Sjunnesson gets a call from Skeldar, someone he has drawn in comics. Skeldar wants financial compensation for his comic debut and so the others go to meet him. While waiting for Skeldar, the two are attacked by a rampaging ice cream truck filled with people trying to kill them. Avoiding death, they continue to seek out Skeldar. But this is 1999 Serbia, which is being bombed, and if that were not enough distraction, everyone is scrambling to find the frozen body of former leader Tito. And then there are these Bosnian flat dogs that keep showing up everywhere. Andersson and Sjunnesson have crafted a bizarre but rewarding tale, that provokes many different thoughts and emotions, sometimes simultaneously.


Yeah Kou Phobia has all the feel of a story by Mr. Clement. It depends heavily on the visual, and little on words. And what's happening in the panels is only a fraction of what the story is telling. That is, talking about the plot as it relates to narrative would be irrelevant. Clement's tales run much deeper and are often up for numerous interpretations. Additionally, though his drawings are simplistic, they still provoke many questions, as does his use of coloring, which is selectively interspersed throughout the book. The beauty of this graphic novel is that one could read it several times and get several different stories from it, depending upon the reader's mood.



Fans of the Three Stooges or other proponents of slapstick and excessive violence need to get hold of Mister I. Lewis Trondheim takes the concept of a running gag and performs a marathon. Just when readers think it won't be funny any more, they will still laugh. The premise is simple. Trondheim tells Mister I's story within sixty small panels (all of which fit on a single page) and by the end of each story, Mister I has died a horrible death. Trondheim performs this feat thirty times in this collection, each death unique. The repetition of the joke invokes the old comic strip, Krazy Kat and Ignatz, which usually ended with Ignatz or Kat enacting some sort of violence upon each other (usually throwing a brick). Of course, this gimmick has been used in many famous cartoons including The Simpsons' Itchy & Scratchy and South Park's character, Kenny, but there's something rich about watching Mister I, time after time take the plunge in another morbid way.

Wandering from the standard narrative won't always work. Readers enjoy repetition in how the story is told just as much as they enjoy the specific conventions of a genre, so many will not move beyond their particular choices. However, stepping outside the standard allows both artists and readers to consider new ways of looking at storytelling and art in general.
---
Note: Opinions expressed in reviews and articles on this site are those of the author(s) and not necessarily those of BookLoons.
---