Kili Climb
by Hilary Williamson
(page 7)
---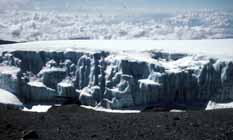 I was getting near the end of my talk. Lizzie asked 'Are they near the summit yet? Did your mother make it?'

'Almost there. After they rested they went up the Kibo glacier. Isn't it beautiful? But it was very hard going, just one step for each breath.'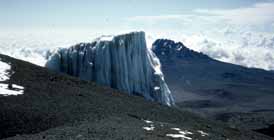 'Mom said the very top is flat, kind of disappointing for the summit of all Africa. But I like its name. It's Uhuru, Swahili for peace.'

'I wonder if Lieutenant Uhuru from Star Trek ever climbed Kibo?'

asked Amir.

'Of course not,' someone scoffed, 'she just said Beam me up Scotty'. So my talk ended like it started, with everyone laughing. But I didn't mind this time.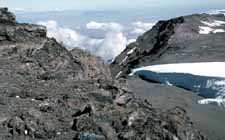 The teacher said I'd brought the mountain to life, almost as if I'd been there myself. I thought of something I overheard Siara say 'Only when you have crossed the river, can you say the crocodile has a lump on his snout.' Was it only a dream or had I and my friends somehow been on Kilimanjaro?

I looked at Amir and Lizzie. There was recognition in their eyes as we all remembered Siara's voice - 'Dream and you will climb.'

Of course Amir had the last word ...

I think that my friends see a different person now when they look at my mother. I don't. Like Siara said, I can follow in her path and learn to walk like her. Mom climbed Kilimanjaro. Some day I will too.
'It's not the mountain we conquer, but ourselves.'
(Sir Edmund Hillary)
The End
Bibliography
1. Diary of Kilimanjaro Climb (Mar 15-20,1986), H. Williamson.
2. Guide to Mount Kenya & Kilimanjaro, Edited by Iain Allan, Mountain Club of Kenya, 1981.
3. Animals of East Africa, C. T. Astley Maberly, Hodder and Stoughton, Kenya, 1984.
4. African Proverbs, African Proverbs, Sayings and Stories
5. African Proverbs, The Name Site
---

Pages:
1
2
3
4
5
6
7